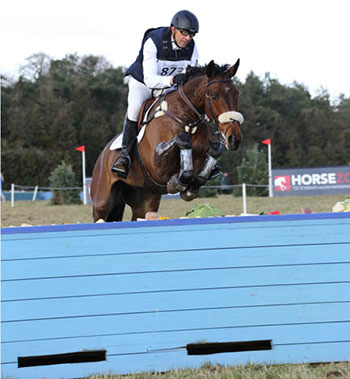 It was an early start this morning; we left home at 4 with Alfie and Womble (pictured) to head up to Burnham Market in Norfolk. In previous years the weather has not been kind to us but we've been very lucky today and it turned into a beautiful sunny day.
Both boys were both doing the advanced class as their first real, decent run of the season. And seeing as it's only ten days until Wombles flies out to Rolex, a much needed run it was. Sometimes the cross country ground can get a little firm up here but today it was perfect, ideal to get them moving on a bit quicker. The downside of the rain they've had is that the showjump ground was quite holding, and although they jumped very well they had a rail each. Their dressage tests were pleasing though. There were a few little mistakes in both, but the overall quality of work has improved again on last season so I'm hoping with a bit of setting up I can improve my marks from the big competitions they did last year.
Cross country today for both of them did not go exactly to plan. Alfie was very good and genuine, there were just a few lines I didn't ride that well, in terms of speed and distances, and left him having to do too much. He is such a genuine cross country horse that even when I got it wrong, he was there to help me out.
Womble gave me a lovely round, except for leaving a knee into the first water over a log, which put me and him off balance, and a curving four strides after that log in was an angled brush coming out, which Womble wasn't on the right line to and didn't even see it until the last second. He was a bit confused about the whole scenario; I spun him round and jumped it, he popped over and galloped off to the next.
So, as I have said, things didn't go totally according to plan, but I am still very confident that we are where we need to be to get decent performances at both four stars, Badminton and Kentucky. The next two weeks will probably see Womble having another run at Weston just before he flies to the States, and Alfie having his final run at Belton for his Badminton preparation.
Let's hope all stays on track.
Cheers,
Bill
Posted 4th April