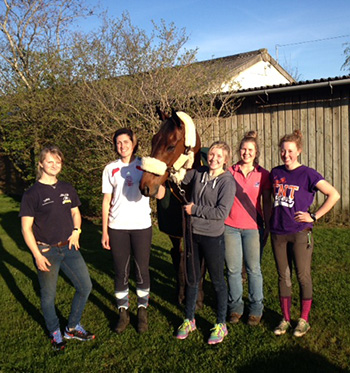 So it's really happening! Womble (affectionately known as Gonk) is heading to Rolex – he starts his journey this evening with an overnight stay at Tim and Jonelle Price's before departing early tomorrow for Amsterdam and the Horse Hotel there. He will then head to the US (Chicago) on the plane on Thursday morning).
I almost cannot believe it is actually happening. It's always been an ambition of mine to ride at Rolex as I've heard such great reports on the event. I'm so very grateful to Womble's owner and my amazing back up team for making it possible. The girls and my back up crew (Ali – who also part owns Womble), Maggie and Nick with help from Fiona have done a wonderful job to ensure Womble is on top form to travel to the US.
I am also very grateful to the help I have had from Gareth, Roland and Equestrian Australia with my training. Emily and all the crew at home have worked tirelessly to support one another to allow me to have this opportunity. Emily is travelling with Womble, but equally important are Poppy, Christena, Laura, Harriet and Jorn at home who will be keeping everything on track for me, enabling me to spend time in the US at Rolex.
So it's all systems go and I'm just praying Gonk enjoys the new experience of flying and that all goes smoothly for the next few days before I join him next Monday.
Cheers,
Bill
Posted 14th April