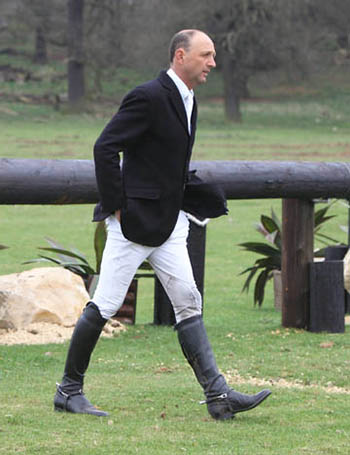 Day one of Belton done and dusted. It wasn't the busiest day we have ever had but it was still very important. Dear Dotty stepped up to the plate and jumped a nice double clear at intermediate, which is no mean feat considering the showjumping and cross country were causing plenty of problems.
Dotty still gets quite tense in the dressage, although Vanessa (her owner) and I feel the quality of the work continues to improve. Once she gets more established in her training, and in turn stronger, I feel sure she will start to settle.
The one other thing we had on today was Alfie's 3* dressage test, his final run before Badminton. As you come up to the last few weeks before your major competition you hope you have the luck (as well as good management and preparation) that you come out the other side fit, sound and basically ready to run. It is always a bit of a nervous time. But on a positive note the ground at Belton seems as good as you could hope for, they seem to have removed some of the lumps and bumps that used to be on the course, which is good news.
Alfie has had a first very good phase doing a personal best in the dressage with a score of 36. He has a day at home tomorrow (Saturday) while I go back to Belton with Drax and Sparkles. And then Sunday the last thing I do before I leave for Rolex is Alfie's showjumping and cross country. Up until that moment there will be no time to lose concentration.
Until tomorrow,
Cheers,
Bill
Posted 17th April