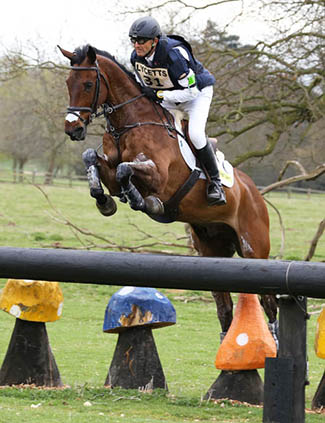 A big sigh of relief! I'm in the lorry heading home to Little Charingworth Stud after three days of Belton. It was always one of our main concerns that I might fall off and injure myself; with Womble already in Kentucky, it would have been a disaster (understatement).
Fortunately for this last day it was just Alfie's showjumping and cross country. He jumped a lovely round but to my huge frustration he just tipped the last fence for four faults. We then proceeded to the cross country, where he went round the three star at Belton as good as he has ever gone. Again we had a couple of time but I felt I gave him the exact ride he needed for his Badminton preparation.
With the 2 times faults and one rail this left the door open for two riders to move above Alfie in the placings. The American rider Clake Montgomery in the end finished a point or two above us, but Alfie managed to hang on to 2nd place. I'm frustrated I couldn't win the class but, as I said earlier, it has been the ideal prep run for Badminton in 3 weeks time. With such a strong field of 114 competitors, to come second was a very strong performance.
So Belton is behind us and what looms larger than life now is our American adventure. Seeing Womble and all his kit is already in Lexington, and some of my kit for that matter, it's simply a case of getting home, spending time with the kids and packing before an early start for the airport in the morning.
To go back to Belton, I think the event has definitely improved over the years and that old turf certainly allows you to have a decent run cross country on ground that isn't jarring.
The next time I send a blog will be from Kentucky.
Cheers,
Bill
Posted 19th April