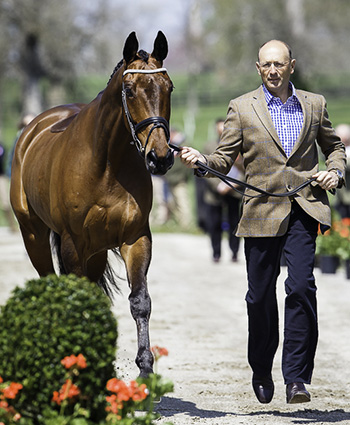 We woke up to black clouds and plenty of rain at Rolex this morning however it didn't last long and by this afternoon the sun was out, although the winds were still strong enough which is good for drying the cross country ground out.
This morning I took Womble for a good hack around the Rolex park, schooling him as I went along. The horse park is a huge facility with plenty of scope to ride around the place. It is very impressive, with everything you might possibly need for the horses and lots of arenas and massive stadiums, both outdoor and indoor (where the reining is currently taking place).
After riding Womble I had a chance to have a first look at the course. It is 11.06 in length with 29 jumps and 45 jumping efforts. The terrain is as undulating as I was expecting, but more turning than I had expected which I think will make the time hard to get especially if the predicted rain does fall.
The course is a four star test but at this level I expect nothing less! Riders who have been here many times have told me the track is beefed up in terms of the dimensions of the fences vs previous years which is interesting.
This afternoon we had the trot up and all the international horses – 8 in total – went first as we are kept separate from the US horses. Womble was on great form and flew through. His adrenalin was pumping and he was stronger than normal on the trot up strip so I had a firm hold!
Tonight we are off to the owner/rider welcome party where we all have a chance to win a Rolex watch! The party takes place at one of the big local TB stud facilities in a house built in the 1920s so that will be interesting to see.
My dressage time is 2:15pm on Friday so Thursday will consist of more dressage practice and a couple more walks of the course. I go cross country at 2:08pm. You can find live scoring here, plus you can watch the action on FEI TV.
Cheers,
Bill
Posted 22nd April – Photo Libby Law