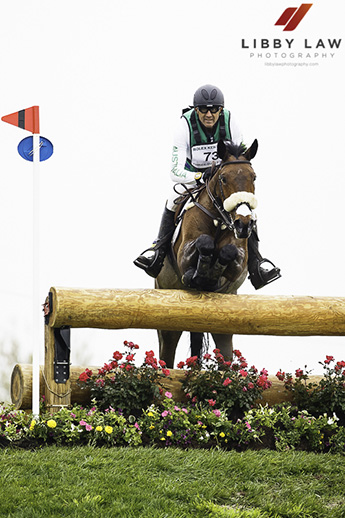 Second phase of the competition completed. I must admit it was with trepidation that I headed in to today – with rain forecast and the times moved forward because of the threat of severe thunderstorms it was going in to the unknown in terms of what sort of a day it would be – as I already knew it was a tough track asking four star questions from start to finish.
As the day unfolded it was clear that time was going to be influential and very hard to achieve. Early on there were some very nice horses ridden by experienced riders struggling to come in under time. It was a nice advantage to go later in the day as I could see how the different combinations were riding and by the time cross country came for me I was pretty settled on my plan.
Like all rounds the plan isn't always the thing that happens and around a track of these dimensions it had to be attacked, and if a stride presents itself but it wasn't the one you were hoping for you just had to be positive and give your horse the confidence to go forward and jump.
Womble was a star, galloping from start to finish and digging very deep. One of his great strengths is his ability to look for the next fence and prick his ears and jump between the flags holding his line. Clear, inside the time – I couldn't have asked for more.
Overall I thought Derek de Grazia had produced a real four star test and I liked the track very much. The only fence I thought was quite punishing for horses even if they jumped it well was the first water.
Womble seems perky tonight after his cross country escapades so I'm just hoping he and I can do a good job tomorrow and finish things off in the show jumping
Cheers
Bill
Posted 25th April – Photo Libby Law Photography