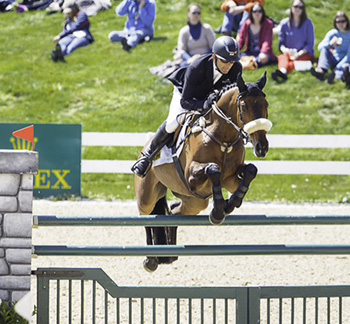 I write this waiting for my connection at Atlanta airport back home to the UK.
It's been a very eventful day!
Womble was very bright this morning and he trotted up really well for the ground jury flying through the inspection. There were quite a few horses held but yesterday's adventure didn't seen to have had any ill effects on Womble!
We then took him, as is customary for me, for a hack and a little jump to loosen off his muscles; and this ended up being a rather more eventful session than planned.
A miscommunication over the set up of a fence ended up with Womble and me hitting the deck in rather spectacular style. Thankfully Womble walked away unscathed, just a little shocked, and I am sore but haven't broken anything – also thankfully I didn't hit my head. It was a lucky escape.
After gathering ourselves and checking Womble was OK we had a little jump to make sure he was happy to jump, and then we both had some physio ahead of the afternoon session.
The show jump track was really well built and presented and asked some interesting but very fair questions. I thought it was a big track, but fair.
Sadly Womble and I had three down; the second two parts of the treble and the back rail of an oxer. This dropped us from 5th to 10th but it was still a good result. I was hoping for a top 10 place at the beginning of the week and so that goal has been achieved.
Womble leaves tonight to start his trip back to the UK along with Emily and they should both be back home on Tuesday.
It will be great to get home to the kids and get Womble out in the paddock.
A massive thank you to everyone for your messages of support over the week and a huge thank you to Emily for taking such good care of Womble and Angie for her help at the event and for my amazing owners who helped me get here!
It was a dream come true to get the opportunity to compete at Rolex. One I won't forget for a very long time
Cheers,
Bill
Posted 26th April – Photo Libby Law Photography