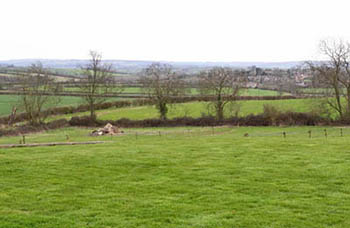 So we are now all safely home from Rolex and finally reunited with our luggage. Womble is out in the paddock enjoying some down time – he has travelled home amazingly well and seems very bright in himself. He will now have a few weeks out in the field and, as is typical for Womble, he will tell us when he's bored as he will start  to get up to hijinx! However for now he's enjoying the sun and munching on the spring grass, despite the chilly wind! Emily is also safely home and will have a couple of days to recharge her batteries ahead of Badminton next week with Alfie.
Meanwhile I am right back in to it, feeling invigorated after our Rolex adventure – I'm ably supported by Poppy and the rest of the home team (Laura, Harriet, Christena and Jorn) who have done an amazing job at home while I've been away. All of the horses are on great form and Alfie remains on track for his adventure in Badminton Park – thankfully next week's trip is only an hour or two down the road!
Yesterday I had a chance to ride the young horses at home  – who have been kept in work while I was away all are going well and feeling good in themselves. They will go out show jumping at the end of the week at Weston Lawns.  In the afternoon we had team training at our place – Gilbert Bockmann  came over from Germany and Paul Tapner joined me. We both had an afternoon of training with Gilbert with half a dozen horses each – it was incredibly valuble to put the horses through their paces and to get Gilbert's expert input.  I rode Alfie, Sparkles, Alex, Drax, Ziggy and Dotty and I found the sessions really beneficial with all of them.
Today we head down to Wickstead – the base of Paul and George (Tapner) to ride some show jump tracks, again under the watchful eye of Gilbert. With the impending birth of Sam & Lucy's (Griffiths) second child there are a few extra slots and so I'm lucky enough to be able to take five horses down  – Dotty, Drax, Sparkles, Alex and Alfie. It will be an educational day and a good opportunity to jump around a range of courses with my fellow Australian squad members.
We then have dressage training with Gareth at the end of the week before I head to Withington at the weekend with Sparkles, Alex, Ziggy, and Drax – Alfie will have a weekend of R&R to get him refreshed ahead of his main spring goal next week!
Cheers,
Bill
Posted 29th April