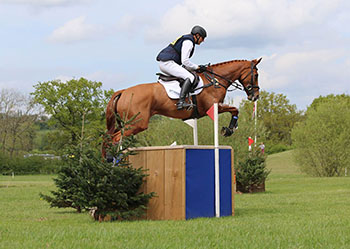 It was a lovely day at Aston, the weather was wonderful – warmth in the sun but not too hot. I was lucky to get everything done today as tomorrow looks set to be very wet.
It was a day of many firsts with Ziggy doing his first intermediate, and Natty (a new horse on the yard) having her first day out with Team Levett. The third horse we had out today was Drax. Drax is continuing along his road of he and I developing a partnership. Ziggy led the dressage, one down showjumping and a very nice clear with a few time penalties on the cross country. Overall he finished third in his first intermediate which was very pleasing for all concerned – he felt secure and confident in all three phases which was good to see, and very ready for the step up to Intermediate which is exciting.
Our new horse Natty seems really sweet and again, like Drax, we just need some time together doing more events to get to know one another, finding out which bits work for her in all the different phases. She's an exciting horse to get the chance to ride as she seems to be a lovely show jumper and very bold cross country. She's definitely my kind of ride, and a lovely horse to be around and train are my early impressions. She's young to be Advanced so we certainly don't need to be in a hurry producing her.
Drax continues to improve, just having one down in the showjumping again, and going a little better cross country. Like Natty, he is a very sweet horse to handle and be around, and it will be very satisfying to watch him develop and grow, and become part of the furniture so to speak. Aston has three days of affiliated and also a day of unaffiliated, so an enormous amount of horses to get through.
Today we also had Jorn out with his horse Vicco Pop, doing his first intermediate in England, and he continues to be very competitive. His horse is the perfect one for him to get experience on, having an extremely good temperament and a very confident side to his personality. This was his last run before Houghton 1* and even with one showjump down today he still managed to win. I'm very happy for him.
Hayley was also out with Cuppi, just to do the dressage and showjumping. I think Cuppi was very pleased to be out and was quite fresh, but still managed a lovely clear showjump round. We are not back at Aston now until Friday, but with the rain tomorrow I'm hoping the ground will be slightly softer as today it was on the firm side, which surprised me given the rain we've had over the last few weeks.
Cheers,
Bill
Posted 13th May – photo of Drax © Samantha Clark