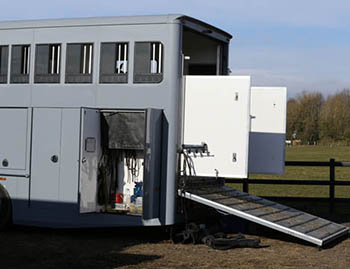 An early start this morning with one of the few days where I had the same amount to ride as Jenny. It was a nice day out with Emily and our trainer/super groom Urssie along for the ride. We headed off to Carlton Horse Trials with both of us in the dressage ring at 8am.
Last week I said that Nunney was an educational course for the intermediates and this week was just as much of an education for the babies. There were a few really good questions which were quite testing mentally for a young horse, but not in a way that would frighten them, more in a way that it would bring them on.
It is the time of year where the ground can be firm. They had worked very hard on the ground on the cross country but there were still plenty of withdrawals – however I decided to run my young ones as there was a lot of value in jumping the educational fences.
Jenny decided not to run hers cross country as they are both going well and have another run next weekend. It was Jenny's turn to be the dressage star this weekend, with Ricky landing a 21 in her section and by the time they were heading cross country she had a more than 15 point lead as she also jumped a nice clear, but she still decided to save him for another day – lucky horse he is!
Dylan was Mr Consistent again, scoring 31 and jumping double clear to come fifth again the the KBIS 5 year old qualifier.
Tonto also had a good day with a 32 dressage and a good double clear to run a minor place in 7th; he (and Dylan) both had a few time penalties cross country as I took them slowly given the ground conditions.
Carlton is a lovely event. They go to a lot of trouble to put on a good show with interesting show jumping tracks and good cross country and, as I said earlier, they had worked very hard on the ground. If only the rain we had today had come on Friday instead.
We are now heading home ahead of meeting up with some owners this afternoon.
This week I have some show jump lessons and will be training at home including cross country schooling ahead of competing at Aske Hall on Saturday and Eland Lodge on Sunday.
Cheers,
Bill
Posted 28th June