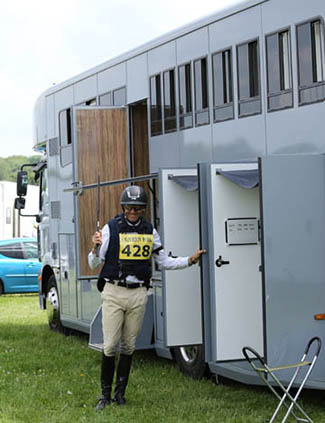 It was nice to be back at Dauntsey today, a fairly local event for us as it's just a bit over an hour away. It's always known as being a meaty course and the Novice and BE100 had plenty to do again, but it is their aim to produce courses that get you ready for the next level and I thought what they had produced today was very good. It's the time of year when the ground is firm but they tried hard to take the sting out of it. Jenny had Ricky out today and I had the three young ones, Cassie, Tonto and Dylan.
Tonto warmed up as well as he has for the dressage but then sadly took exception to the white boards. It's nice to see glimpses of improvement in a young horse like this although it may not be consistent. Dylan was a bit naughty in the dressage but in the jumping phases he gave me a really nice feel. Although cross country he shied and ducked out at a corner, he felt as good as he ever has.
Tonto was giving the show jumps a lot of air and he also gave me a lovely ride cross country. Ricky jumped a nice clear round showjumping and seems to be very happy and confident with the partnership he has with Jenny now. He had an unfortunate run out cross country, but on a line which two of my three also found difficult so one of those unlucky things.
Cassie is funny as at home she is always careful but doesn't give the jumps a whole heap of air, but get her to a competition and she really gets into gear; I was so impressed with her today, a sign of a real competitive horse. Jenny's obviously been doing a wonderful job with her over the last few events, it's certainly been of benefit to her as she was far easier to ride in the jumping phases than when I last competed her.
Not long now until all the older ones have a spin around Aston. It will be nice to get them out and see where they're all up to. Let's hope the ground is decent as sadly I don't think there's a lot of rain forecast.
Cheers,
Bill
Posted 22nd July