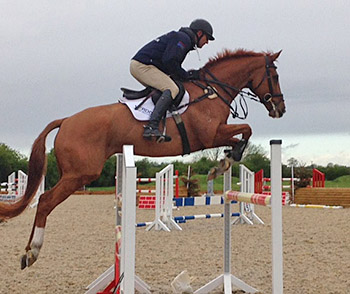 I'm rushing home from Weston Lawns this evening as we are trying to get back to participate in Poppy's leaving party!
It's been good to come out and show jump the older horses again, and get in the groove of having everything how we want it in terms of bitting, boots and warming up. We had Ziggy and Dotty out today; the more regularly these guys come out the better, it does them good and encourages them to relax in different environments and atmospheres.
They both jumped well and I'm hoping in time they'll just get a little more confident too. We also had Alex and Womble out to do the main Foxhunter class and they both jumped clear rounds. We've still a bit of work to do with them to get the perfect set up that we want but we're getting very close.
Today we had a lovely friend come with us, Lindsay from Wales who we've known for a very long time, and we put the poor girl to work! Lindsay was thinking she would get in the way but me and Em thought it was Christmas having an extra pair of hands! So all in all a good day, and I'm hoping these extra efforts pay off with clear rounds when it really matters.
I must add I wouldn't be doing all these things without Jenny slaving away in the back ground and pushing me on to get out and compete and try to iron out all the little weaknesses. Let's hope we have a nice evening now to send Poppy on her way.
Till next time,
Cheers,
Bill
Posted 30th July – Photo by Poppy Tutcher