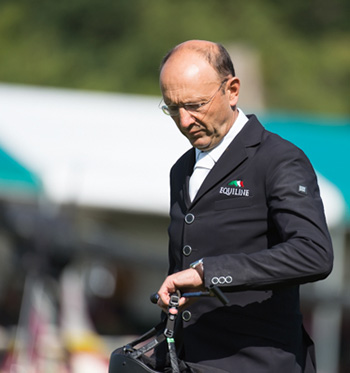 So Burghley didn't end as I would have wanted, far from it. The whole team were very disappointed with the show jumping on Sunday, Womble was feeling on such good form after the cross country on Saturday that I was definitely not expecting him to kick out so many rails, it was very unlike him.
My reflection is that I need to spend time on more athletic exercises on the morning and immediately prior to the show jumping in the afternoon to shorten him and help him get his shape back after getting strung out on the xc the day before.  I have a winter of experimentation and show jumping ahead of me! So lots to try and to work on ahead of next spring and hopefully having a different plan ahead of Badminton which will be our next aim with Womble.
It's always hard for the team to pick themselves up after a big three day; there is always a post three day feeling however well one does but it's particularly stark after a disappointing ending –however I'm lucky that a hug with the kids usually makes me feel a whole lot better! I'm also extremely lucky to have other lovely horses at home to focus on and so there is never much opportunity to wallow!
It's been a good week at home with lots of riding of the horses preparing the younger ones for their goals this weekend at Gatcombe and putting the finishing touches to Alex's main goal of Blenheim next week and beginning to increase Alfie's programme of work ahead of Pau. The ground should be good for both Gatcombe this weekend and Blenheim next so I'm looking forward to riding the upcoming competitions.
The girls on the yard have done a great job keeping the horses moving forwards with their fitness work while I was away at Burghley and they are all looking a picture at the moment so a big thanks to my team at home and of course to Emily who leads them all so well.
Straight after Burghley I took a very quick trip to Ireland for a Monart sale selection day we saw about 60 3, 4 and 5 year olds in a 24 hour period so it was a pretty intense session. I do love looking at young horses and trying to assess their potential so it was a good distraction after Burghley.
This week the Europeans take place at Blair, one of my favourite venues –it really is a breathtaking venue and well worth the long drive north. I will be backing the Brits this weekend, not only because I do have a British passport and when the Aussies aren't in action the Brits are those I support BUT also because Nicola (Wilson) will be riding Coco (One Two Many), a horse very dear to my heart as I found and produced him from a four year old onwards, taking him up to success at three star level. I always thought he was a championship horse –my money is on Nicola coming home with two medals around her neck and I will be very proud (if not a little jealous) to see Coco in action.
Cheers,
Bill
Posted 11th September – photo Trevor Holt