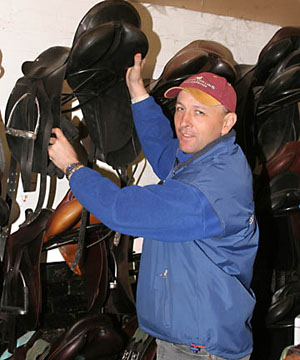 Its been a busy couple of days: I jumped Hipp and Tim on Tuesday working on accuracy questions to help prepare for the lines we are likely to meet at Badminton. I also worked on combinations and related lines particualry with Tim who in many respects I'm still getting to know as he has only been with me for about three months and we've only done two competitive outings together. Matt has been hugely helpful in downloading his years of experience and knowledge about the horse – however nothing really replaces time in the saddle with a horse to build a partnership.
Yesterday I took Jenny, Emma and Mary to Sapey for a run around the BE100 course – all rode well no-one won any ribbons but it was a satisfactory day out and I wasn't riding so could dedicate my full attention to helping them. I was particulary pleased with the control and rhythm with which Emma and Mary rode the cross country; both have progressed hugely over the last year – very satisfying.
Tracy from Harley Equestrian also came yesterday to check the horses saddles one last time before Badminton. I find the horses shape changes over time, as they age, get different muscles depending on their level of training, and most importantly the fitter they get and so it's important to get their saddles checked regularly. Both Hipp and Tim have changed in shape over the last six weeks so there was much huffing and puffing yesterday to ensure that both horses (and me the jockey) are as comfortable as possible for Badminton!
I'm very reluctant to change anything this close to the event, but a few tweaks here and there are really important. So a huge thanks to Christine and Tracy for perserving with us last night and getting everything 'just right'. I must also thank my long suffering team particularly Vicky and Eleanore at this point in time as they are giving me huge confidence that no stone is left unturned at this late stage in our preparations. I realise I can go slightly mad in this last week or so… case in point, much to Jenny and Vicky's amusement (they had to laugh or they would have cried), yesterday I decided I needed to go through every breastplate we have on the yard as I wanted to be absolutely sure I had the one that I'm happiest with in terms of fit for cross country – don't ask me why as its never been an issue but it made me feel better!
Anyway today we are off to the gallops for the final 'big' canter so fingers crossed that all goes according to plan.
Cheers,
Bill
Posted 22nd April