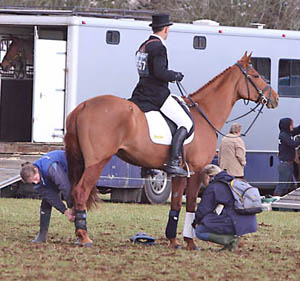 Today I was at Hunters near Cirencester for dressage. They very kindly lay on a competition pre Badminton every year giving an opportunity to ride the Badminton test under competitive conditions. They also lay on 3, 2 and 1 star tests for the upcoming UK based three day events e.g., Houghton and Bramham.
I took Coco, Bella, Hipp and Tim. Coco won the 1star section, although he was a little unsettled and anticipating some of the movements so I need to tweak his warm up for Houghton, but I learnt more about him today and how to prepare him. Bella was, as ever, a challenge but not as tense as she can be and I feel the work is slowly improving particularly at home. I now need to try and be able to maintain the same consistency at an event – but she's not straightforward!
It was good to ride the Badminton test again, and I was pleased with Tim; he is such a trier and I feel I'm beginning (although its early days) to get to know him. I'll be pleased if I can achieve a settled and obedient test consistent with what he's done today. I was disappointed in my test with Hipp. He still won the class but I was not happy with my changes and a few other bits and pieces, however again it was a very worthwhile experience as I learnt more about how I'm going to apply the aids to try and give him more confidence in the ring – he's a very sensitive horse and lacks confidence so constantly needs his hand holding! I've ridden him for a few years now (3) but I sometimes wish I'd had him from a 4 year old – never mind, nothing I can do about that!
Anyway Tim and Hipp have a day off tomorrow which will be good for them out in the field and sunshine, however no such pleasure for me – I'm off to Withington with Figgy in the Novice, Harry in the Houghton 1 star section of the Novice, Coco in the 2 star section of the Intermediate and Magnus and Bella in the Intermediate and Advanced respectively. I'm a little concerned about the ground as it's already rock hard at home, but they usually do a good job and as much as they can on the ground so I'm approaching it with an open mind and won't make any decisions prematurely about running or not cross country.
Cheers,
Bill
Posted 24th April