Over the years we've adapted our system for how we prepare horses for a three day event, and then also manage them at the event. These tips are based on experience and often learning the hard way when things don't quite go according to plan!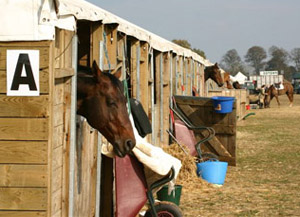 Managing a horse as it gets fitter involves a little art and a little science as no two horses are the same. However some of the following ideas may be of help; whether you are preparing for your first BE100 three day event or Badminton the same logic will apply.
1.FEEDING: As horses get fitter they tend to get more picky in terms of what they will eat – try feeding smaller feeds in order to ensure they eat properly. We can end up feeding horses 4 or 5 times a day (note: always leave a four hour gap between feeds). Observe when a horse eats the best – some eat better at night others in the morning. Adapt the size of feeds as well as number depending on your horses eatting pattern.
2. SKIN: Getting your horse fit is going to involve fast work and horses will inevitably sweat more. Be fastidious about their skin, particularly their heels if you are cantering on a surface as many horses can react to the gallop surface and get pink/aggravated skin. Vaseline in the heels applied just before you canter can act as a barrier but is tricky to wash off and it needs removing post gallops. An alternative is EquiHeel, a great product but it is more costly than vaseline. However it does work well and comes off easily. With more cantering you are likely to use more ice boots to ensure legs are cooled effectively post cantering – again be careful with the horses skin on their legs/heels. We always towel off the horses legs after work, making sure to dry the heels and apply talcum powder if the skin looks imflamed.
Given the above think hard about the best time to clip your horse in advance of your big competition. We NEVER clip horses legs out as we find we have far fewer issues leaving their leg hair on. We always try to clip a horse at least 2 weeks before its three day event OR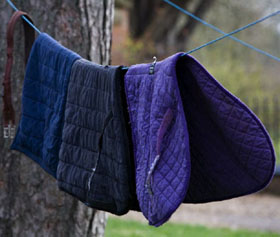 we clip it after the dressage but before cross country at the event if it is good to clip. You don't want to get a rub if you can avoid it in those vital last few weeks. Post clipping be very careful to ensure numnahs are clean and that they have enough padding to try and avoid skin irritiation as the horse's fitness builds. Try and get the horse out in the sunshine as much as possible as this will be a great help in ensuring skin stays healthy particularly under the saddle patch area.
3. SADDLE FITTING: As your horse gets fitter it WILL change shape. Make sure you get its saddle checked a couple of weeks before your event.
4. SHOEING: We shoe all horses 10 days in advance of their three day event trot up day, so that we have enough time to ensure the shoes settle and yet the shoes have been on no more than two weeks before the cross country phase. For bigger competitions we use aluminium shoes which our farrier puts on post the dreesage. They are lighter in weight but you cannot put on to early as the metal is softer and wears more easily eg the stud holes
5. TRAVELLING: Be careful about how much you cart your horse around. Horses like routine and when we cart them around be it for lessons, events, gallops, or cross country practice we are likely disrupting their routine and they tend to get more jaded and tired. It is also harder to ensure enough time for them to graze and eat as much. We try to plan the work diary to ensure horses are not on the box travelling more than they have to or many days in a row. I'm not saying don't travel, but just be conscious on the impact on your horse
6. THE LAST WEEK BEFORE YOU GO: The temptation is to wrap the horse in cotton wool for the last week before your event, but try not to. We aim to get the horses at peak fitness 10 days before their event – you won't make them any fitter by continued galloping in the last 10 days. In the last 10 days we back off the horses a little and try to give them a chance to freshen up BUT don't stop working them all together or you will have a problem. They will still be schooled, jump and canter but the intensity of the canter work will be reduced. Remember the horses are likely on a lot of hard feed so they need to keep working and/or the hard feed be cut.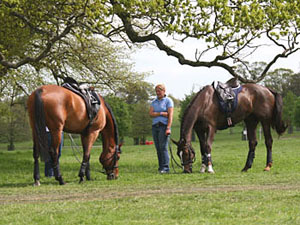 The aim is to freshen them up while maintaining their fitness.
7. AT THE EVENT: Be conscious to try and mirror your home routine. If your horse is out in the paddock every day at home make sure you take it out to graze in hand as much as you can – three times a day for 45minutes for example. If your horse goes on a horse walker at home twice a day for an hour – make sure it goes for a walk hack at the event in addition to its work/schooling. Having said this its important to give your horse down time to relax at an event and not to be 'at them' doing stuff with them/to them all the time. The simple message is to be conscious of trying to mirror as much of your home routine at the event.
8. HAVE A PLAN: I make a plan of what I'm going to do each and every day while away at a three day event and then within the overall plan make a plan at the end of each day for the next day with Vicky/Jenny at the event. This is really important as time flies by at the event itself and in between course walking and working horses there's not much time for anything else. Having a plan works best for the horse and whole team as it ensures horses can be fed in a routine and also have time for grazing and down time as discussed, all of which are so important.
9. DON'T FORGET TO ENJOY IT! Something I have to remind myself of! It's a huge achievement to get to any three day event so do make sure you take the time to enjoy it and give yourself a big pat on the back for getting there, whaever the outcome at the event!
Photos by Tony Meredith & Michael Payne