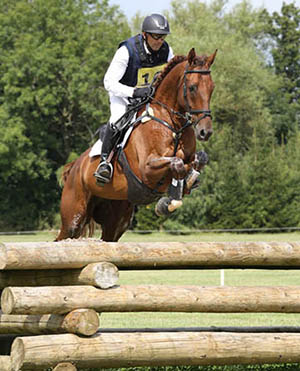 I'm travelling home on a high, after Sparkles cleaned up in the CIC 2 star. What a clever boy, he's only seven and he finished on top of the class which held about 100 horses! I think we'll finish his season there and wrap him up in cotton wool until next Spring as he's such an exciting prospect for the future and I don't want to rush him. He can do a CCI in the Spring.
It was all very close in the end when it came down to the show jumping, but he did jump well and clear to hold onto his lead. In the cross country today he again was amazing, he's such a phenomenal cross country horse! Just very naturally light and athletic.
Ziggy and Natty were also there doing the 2 star and for Ziggy, although he was really trying to do well, I just couldn't turn quickly enough to get him to the fence which then put me in the position of more run outs, so in the end I had to call it a day and it was a shame that we didn't get to finish the class.
Natty again was quite keen at the early part of her cross country round, but was jumping very well and holding her lines consistently. If I could just get her to relax a bit more then she would give me a great run cross country. The course at Gatcombe suits certain types of horses, it doesn't really flow as it stops and starts quite often.
Anyway it's just great to get a win in a prestigious class. It won't be too long and it will be Alex's turn at Blenheim in a few days time. From the sounds of it there's quite a bit of rain along the way, but we'll cross that bridge when we come to it. Until Blenheim,
Cheers,
Bill
Posted 13th September