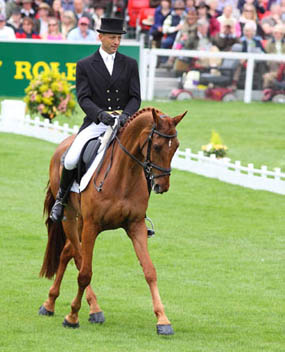 Another good day. Hipp has done his dressage this afternoon and did as well as I can hope for at this point in time. He got a 44.5 and is in equal 11th place. Tim is about half way down the field and as I said yesterday I'm also thrilled with him. Coming here this week I was hoping for mid 50s with Tim and mid 40s with Hipp so really pleased. Both horses have got significant improvement still to come so that is also exciting.
The scores are all pretty tight after the top 2 and I don't think it's going to be a dressage competition. There is a lot to jump out there and it's currently tipping it down with rain so we shall see what tomorrow brings.
I'm off to walk the course again and then will sit down and make a plan for tomorrow with the girls and Jenny. Hipp and Tim are having their aluminium shoes put on by Nick and a well earned massage from Anna – it really is a team effort.
I'm hoping for a good couple of rounds tomorrow. You'll be hearing all about it soon enough!
Cheers,
Bill
Posted 1st May