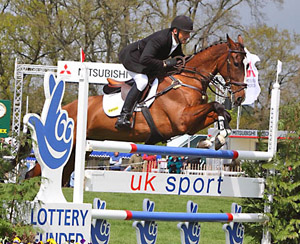 It's been a good day, both horses trotted up well this morning and seem to have come through the cross country in good shape which is always a huge relief.
I was lucky enough to be jumping both horses in the afternoon session. It was great to have two horses although things didn't go quite according to plan with Tim. I am still getting to know him and I think I may have made a mistake in that I gave him a stretch and little jump this morning and on reflection I think it would serve him better to have only jumped this afternoon. Each horse is different. And all being well I'm looking forward to building on this result with Tim and getting to know him better on the flat and show jumping and then hopefully aim for Burghley.
Hipp, on the other hand, I think benefited from a little jump and stretch this morning and then the warm up this afternoon. He jumped like a top, he was clear and I was also pleased that I rode well. He ended up 7th which is my best Badminton result and best four star result – so I'm really, really pleased. As I said at the beginning of the week it was a fact finding mission with a horse I didn't know and a horse that was moving up a level. Both have done me proud.
The show jumping track when I walked it didn't seem that big but experience tells me that when you ask a horse after a 11 minute plus cross country to try and jump a clear round the jumps feel big enough and you have to ride well and the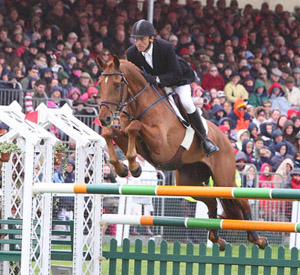 horse has to be willing to concentrate and want to be careful.
It's been a great week with so many people being involved in helping me achieve this result – Nick (farrier), Anna and Maggie (physio), the team at home looking after the place, Vicky and Eleanore looking after Hipp and Tim so well – working long hours and really taking care of the detail. Gracey looking after the kids – who came today which was great although they're  a big leveller as the highlight for them was the fair and when they could have an icecream – Josh is keen to point out how many icecream vans he saw on the cross country course yesterday!
But most importantly it is Jenny who takes the lion's share of the burden in terms of putting up with me when I'm tense and so much organisation and effort to actually just get here.
I'm looking forward to getting home and really satisfied that its all gone so well.
Cheers,
Bill
Posted 3rd May