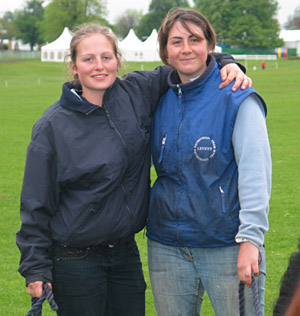 We arrived home late last night and all collapsed in a heap. It has been a great week but I think the concentration and attention to detail from everyone has been exhausting and there were no celebrations in our house on Monday night as we all collapsed in to bed and decided we would have a party on Tuesday night instead!
It's been a good day as it's all been very normal, taking the kids to school, unpacking the lorry, catching up on repairs around the yard, sorting out the muck heap, endless washing and chores. I've also given the girls a show jump lesson as I'm taking them to Moreton Morrell tomorrow for a one day event; it will be Thea's first outing on Dollar which will be fun for her and Darian is riding Keedy.
Joshua and Ursula put Badminton into perspective this morning: over breakfast Joshua emerged from being deep in thought to announce that he felt Daddy had done a pretty good job, but why hadn't he stopped for an ice cream on the way round given how many ice cream vans he'd seen? Ursula is most disappointed that Daddy's rosette is not pink and why didn't Daddy get to gallop round the arena several times – I'll have to do better next year, although I'll be hoping for a red rosette not a pink one!
I cooked a meal and cracked open a bottle of champagne for all the girls on the yard this evening to thank them for all their efforts, both in the lead up to Badminton and during the event itself. The team at home have done a great job keeping all the horses exercised and well looked after and Eleanore and Vicky did a good job supporting me at the event, ensuring nothing was left to chance. We've had lots of laughs this evening, but all had an early night as we're off to the gallops early in the morning with the Houghton Hall and Bramham horses ahead of taking the girls to Moreton Morrell. Back to reality!
Cheers,
Bill
Posted 4th May