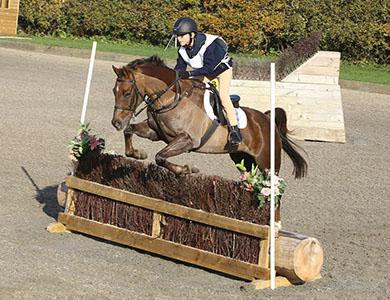 This weekend we sadly lost the Rugby World Cup final which is something that Josh and I have really enjoyed following, and we were also lucky enough to have  had the opportunity to go to watch a match as well thanks to the generosity of some good friends.
However on a more positive note the kids have been on great form with their competitive endeavours and we had a great weekend of sunshine and autumnal weather – England at its best! I got to go cross country schooling in warm sunshine on 1st November which was a new experience for me but one which I hope to repeat in years to come as it was a great morning of training with the young horses and nice for the owners to watch in the sun.
Ursula was competing as part of the vaulting club; she competes with the Unicorn Trust at Stow. It is a fantastic club with great trainers and role models, with a lovely group of young people who train and compete together. Unicorn is a relatively new club in the sport of vaulting and they were hosting their first ever competition which just happened to be the English championships, so we all stepped forward to do our bit and help as a family.
Josh was collecting scores and helping Fran in the kitchen, Jenny was writing for the judges and I ended up stewarding with Taperz, which gave me a ringside view of the action. I couldn't help but come away with yet more respect for the horse – the horse is a critical component of a vaulting team and it is amazing how they are able to hold a canter rhythm while up to six people in varied combinations vault on and off them in a 2 – 4 minute routine. They do this time and time again throughout what is a long day of competition, with both compulsories and free style for each class – the horses were so consistent and patient it was interesting to observe them.
The Unicorn team did themselves proud, winning the Pre Novice team competition and becoming English champions. Urssie was lucky enough to be part of this team, and the win was well deserved as the girls have worked hard together and really focussed on team work, putting together a polished performance. The club also came 1st – 6th in the Novice section which was a great credit to all the individuals concerned and the club trainers, supporters and, of course, the horses.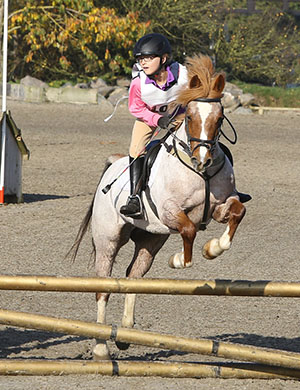 I did manage to duck out of my stewarding duties to watch the Rugby, which Josh and I had been very much looking forward to. Sadly it was not to be, but there will always be a next time (I hope)!
Sunday saw the kids back at Aston doing their first one day event, with the added complexity of dressage. Dressage is all rather stressful for the parents and not considered much fun by the children, despite best efforts to draw parallels to cowboys and Indians and the benefits it will give them with their jumping which they love.
As Jenny recounted the outing I couldn't help but laugh out loud at two stand out stories; Josh rode an accurate dressage test which he had proudly learnt from start to finish – but he completed all of the canter work in a jumping position which left the judge somewhat confused! Secondly Ursula has invented a new warm up technique which I think I might adopt next season. She had a trot and canter around for 10 minutes on a loose rein and then announced that she and Freddie (her pony) would have a sleep for five minutes in the sun as that would be the best way to warm up!
Kids –  just love them, endless fun!
Cheers,
Bill
Posted 1st November