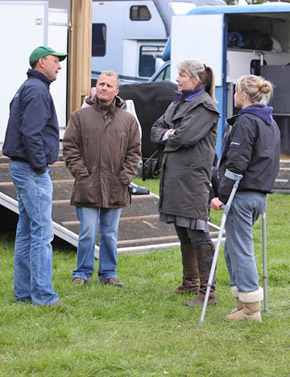 I had a good day at Hambelden yesterday, only with Harry sadly as Figgy was balloted. Hambelden is a popular event and they had to ballot heavily this year – never mind that's how it goes sometimes and luckily Figgy is in to the Novice at Chatsworth next weekend.
Harry was in the NRF we wanted to try and get his qualification early so that it was behind us before Houghton where he is aiming for the CCI*. Mission accomplished – he won! He did his best ever dressage, 25, and then jumped a lovely double clear. A very satisfactory result and I'm really really pleased as Harry belongs to Carol and Veronica who are my longest standing owners and they've been so loyal and supportive to me over the years. We've seen many ups and downs and so for Harry to go well is a really great result. This win is especially poignant as Veronica has had a torrid Spring; her husband had been very unwell and sadly passed away earlier this week. It was great that she could be there with Carol and even more special that Harry won, particularly as it was unexpected.
I've always believed Harry has the potential – he is a very striking French horse but he is complex has a chequered past. He was show jumped in Ireland for a while as a young horse and then cut late. He finally found his way to Vere Phillips and sold from there, but it didn't work out. Vere mentioned him to me a couple of years ago while I was at Bramham and I ended up buying him. He has all the potential, movement and jump but he managed to dump me rather unceremoniously at my first outing with him at Aston Le Walls and shortly afterwards we didn't get beyond fence 5 at Goring.
Veronica and Carol have been patient and over the next six months or so I began to build a partnership with him and he is actually a great cross country horse, with a lovely long stride and he doesn't ever pull so hence is very fast. He also has amazing scope and so finds the jumping very easy. The flat work has taken time and is still work in progress although he's improving all the time; it's not his favourite phase and he can be very lazy so I've had to play around with how to get the best out of him.
As I've said before all horses are individuals!
The organisers at Hambelden must have spent a lot of money on the course in the last twelve months, the investment  is clear and very much appreciated. The course has a lot of variety and it's very hard to get the time as it's quite twisty and fences come up thick and fast. I was glad I was sitting on a fast horse as that enabled me to get the time and ensure I have Harry qualified for Gatcombe Novice Championships which is great.
Cheers,
Bill
Posted 9th May