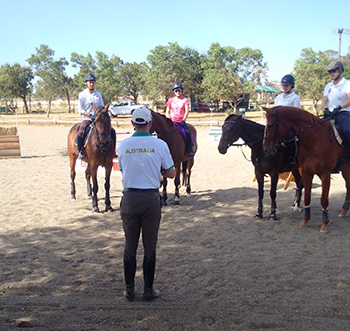 I have just touched down at Heathrow after 8 very full teaching days in South Africa. First stop was Johannesburg for four days, with two days coaching their eventing coaches, and then a two day clinic. It is really enjoyable to teach and be with people that are so appreciative and welcoming.
Johannesburg was 38 degrees and in the middle of a really bad drought, and add to that a really warm wind. By the time I had put my sunscreen on and stood in a dusty arena for a day I was caked in brown dust. It certainly took me back to my childhood days in Australia.
The coaches and students seemed to really enjoy all the information and after four good days it was off to Cape Town and do it all over again.
I had been told Cape Town was totally different and beautiful and it was, with stunning beaches, mountains and greenery. I did the same clinic with two days of coaches and then two days of clinic. As in Johannesburg I was put up by two lovely couples and their children.
All the people were again hungry and appreciative for knowledge, which gives me a real buzz. I was even asked to hand out the awards and give a talk at the Western Cape's annual awards evening.
So as I sit on the bus from Heathrow to Oxford, then to home, I look back on my trip with fond memories, having spent time with people that love eventing. We had a laugh, we shared information and, for me, it was a really positive experience. It also reaffirmed that wherever you go in the world, there are great people.
Cheers,
Bill
Posted 16th November