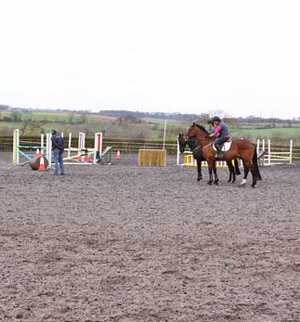 It's been a pretty busy week as usual. It was good to get back to my dressage lessons with Bettina earlier this week. She had watched my Badminton tests on the internet and overall was pleased but had lots of tips for how I could further improve my marks – there's always room for improvement. I took Bella and Coco for lessons to help with preparation for Houghton and Bramham, again the lessons were incredibly useful. Bella continues to improve slowly and Coco is very established at two star level now, so its about tweaking, refining and ring craft in order to try and do the best test possible at Houghton.
I've also been to the gallops and the horses continue to work well; I'm very confident in the gallops I use in terms of both the surface and the amount I have to use them for each level of competition, be it two star or four star.
We are looking for a new horse for the girls and Gracey has kindly leant us her family horse Bailey for a few weeks while we are trying to find a suitable replacement to help the girls take their riding forward. They continue to progress with their lessons and I enjoy teaching them as we always have a good bit of banter!
I've just come back from Aston-le-Walls where I had Magnus and Coco. Nigel has beefed up the intermediate a little bit (although I would say that as I had a run out, much to my wife's disgust – she's allergic to 20 penalties). The ground is turning firm, although Nigel had done a lot of work on it, spiking and watering, and so it rode fine today. Magnus tried hard, he is not far off getting some good results at intermediate level. He's improving in all three phases, and will come good very shortly – he's just a big horse and has taken time to grow in to his body but I'm sure he'll have a smart test and plenty of double clears in him as he's a good jumper.
Coco was as precocious as ever; he was a little naughty in his test, not completely concentrating but still got a 27 and was 2nd after dressage. He then jumped a clear round show jumping. It was never in the plan to run him cross country as he's established at intermediate and doesn't need the mileage – so I withdrew to save him for another day. He will have Brigstock to do the dressage test and then Houghton for his three day debute.
I'm looking forward to Chatsworth this weekend: I'm taking the two red headed ladies (Bella and Figgy), which should be good as I enjoy riding them both. Figgy is doing the Novice and Bella the CIC World Cup class which should set her up well for Bramham.  The kids have a pony club rally this weekend, their first off the lead rein, so I'm glad I'm not around as I'm a nervous nelly whenever they get let off so Jenny gets to handle that all alone.
I'll report back on Chatsworth and the newly independent rally in due course.
Cheers,
Bill
Posted 14th May