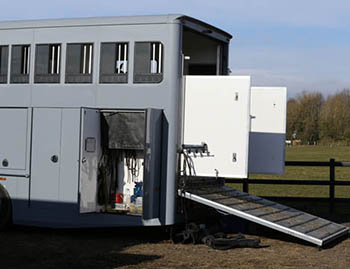 Yesterday I was back at dressage boot camp with Gareth. He's been away on a well deserved holiday and with my horses coming back in to work it's been a few weeks since I've been for dressage lessons so I really enjoyed getting back to it – I took Alex and Natty and I was pleased with how they went – I felt we all made a good account of ourselves!
Today we were out again for our first day off the yard to do a bit of showjumping and it's the 6th of January so the days seem to be flying by. We had on the lorry Womble, Dotty and Sparkles, and we took them to Solihull, ably assisted by Ros Morgan who I've been having lessons with.
They were all feeling a little bit fresh, but were giving me a nice ride around the fences. Sparkles and Dotty jumped in the 1.20 class, which was good for them; I'm just trying to get these two a little more in the groove in this phase so they can hit the ground running in early March. Womble was also getting out and having his first competition. He did the 1.20m and 1.30m classes. He seemed to be coping with it well and we're hoping over the next couple of months that we can work out the best tack for him, as I believe he has a good showjump round in him and we can put our unfortunate round at Burghley behind us.
So today was all about small beginnings and hopefully get these three nice horses set up for a good season ahead.
Cheers,
Bill
Posted 6th January