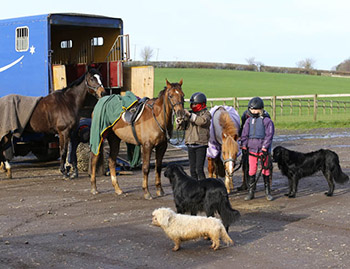 Today we hit the jackpot; despite weather warnings for ice and snow we awoke to a frost but a clear sky. By 10.00am the sunshine was out so we decided to head off to Swalcliffe for some cross country schooling. We made it a family outing with the dogs all coming along for a leg stretch and our good friend Fiona met us there to catch up with Jenny and I as Jenny was on foot.
Megan came with us to give Timmy an outing – he has been out on loan but came back to us in the autumn and is now getting going after a break. He got back in to the groove pretty quickly and Megan did a good job on him. He was very well behaved as children and dogs were charging about everywhere as was Tara who I was riding – she is a young ex racehorse but she has a mature head on her shoulders as she seems pretty unflappable – she took everything in her stride again today, jumping ditches, steps, trakenhers and various other types of cross country fence.
The ground was remarkably good given the amount of rain that we've all had since the end of November – there was good grass cover and we had a good day.
Josh and Urssie had a good outing on their ponies – neither of them have been cross country schooling before on the ponies as they were new to them in the autumn – Urssie and Fred have been hunting and took everything in their stride and Josh also had a good session on Charlie – so all in all good day out.
We ended a fun day with  a good gallop around the venue and the kids had huge smiles on their faces as we had a good spin  – the dogs tried to keep pace but had no chance – Tara gave me a fanstastic feel as she is always in balance what ever pace you are going – exciting for her future, but one step at a time.
Tomorrow I'm giving a clinic at Lyneham Heath which I'm looking forward to as it's the first time I've been there since they've put their new large all weather surface in. Let's hope the snow that's forecast stays away.
Cheers,
Bill
Posted 16th January