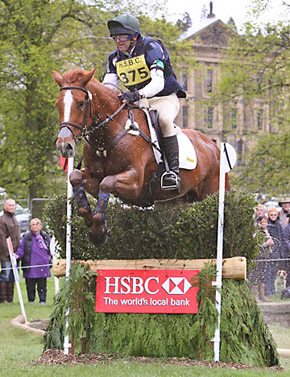 Just about to drive home from Chatsworth. I've not had the best of days, not a disaster but it just wasn't the best of days, one of those when you remember horses are not machines.
Bella went well cross country. The course rode very much as I had expected it to, and no particular fence caused us a problem; she looked in the bottom of one ditch something she hasn't done for a long long time, but in some ways a good reminder for me that she has a history from her very early days eventing and I can never 100% forget that. There was one other line that I didn't ride particularly well near the back end of the course, a bending 6 strides to 2 stride related distance that came up for me in 5 and 1 which was not ideal. Sometimes it goes like that and I was frustrated with myself with the way the line worked out – Bella has a long stride and I need to be careful at these kind of distances on her particularly near the back end of the course.
Anyway she coped with it all well and I was pleased with her. It's a tough track to ride around I feel in many ways that it is more demanding than Gatcombe with the terrain and positioning of the fences. It is usually impossible to get the time at Chatsworth, and today proved so again with Andrew Nicholson being nearest to it. Bella is a fast horse as she has a long stride and doesn't pull and I didn't think I was going that fast, I moved her along as she doesn't go well being ridden too quietly and it's her last cross country run before Bramham – but even so I was surprised that she got only about 10 time penalties.
Our show jump round was one to forget. I felt I rode well but she had an uncharacteristic 5 down. She warmed up fine, although she did feel a bit flat but that's not surprising after the cross country a few hours before. She usually is a good show jumper at a three day event, so I'm not going to panic. It's the first time she's done the show jumping after the cross country in quick succession as the previous CICs I've done with her have always had the show jumping before the cross country. I'm hoping it was just one of those freak days – she tipped them all out in front with her feet, very uncharacteristic.
Anyway its a long drive home with no prizes but we're all safe and fit to fight another day – that's horses.
On a more positive note, Ursula did her first newly independent rally today (Josh is poorly and so stayed at home) and it went without any drama; two hours off the lead rein with only help from mummy for the cantering bit (glad I wasn't there as I get far more nervous that Jenny when they ride). So Basil gets a gold star and Ursula is grinning from ear to ear.
Cheers,
Bill
Posted 16th May