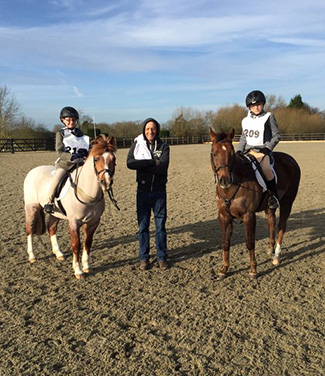 This Sunday was a wake up call for me – not only did I somehow forget to pack my johds before leaving the house, I then managed to get beaten by the kids… a warning shot across the bows for me pre the start of the eventing season!
Aston continues to amaze me in terms of how many events it hosts and how smoothly it all seems to run – we had another good day there yesterday with the kids and I getting a chance to get in the ring and do both dressage and show jumping/cross country on a surface. My excuse for being beaten is that I was on Tara who did her first ever dressage test and they were on their seasoned and, I might add, amazing ponies Charlie and Freddie. Both kids improved on their previous dressage outings and, best yet, there was no whinging before or after entering the arena so things are looking up!
Tara tried very hard – she was bred to race and was in training but has never raced. She appears to have all the attributes to make an event horse but this year will all be about introducing her to the sport and getting mileage, learning her craft without putting her under pressure.
Earlier this week I was lucky enough to have some dressage and show jumping lessons – Ros came to the yard and put me through my paces with eight lessons. I certainly slept well I can tell you, as I find the lessons incredibly helpful but mentally and physically taxing. We also were at the gallops this week after a failed attempt on Monday when Storm Imogen hit; we thought better than to gallop in 80mph head winds and decided to regroup and try again mid week. The horses were all full of the joys of spring on the gallops which was great to see although it did require me to sit tight a few times!
This week sees us at the gallops again and continuing to train on the flat and over the coloured poles, with an outing to Addington and Summerhouse part of the plan over the course of the next week.
Cheers,
Bill
Posted 15th February