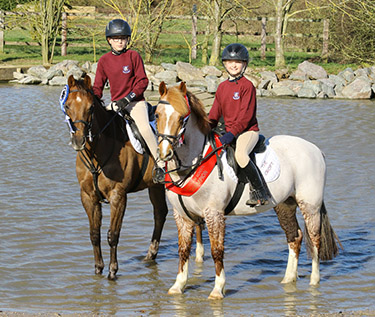 It's been a weekend full of variety. Saturday was an early start riding horses before heading off to Bath to watch Wasps play Bath at rugby – this was a Christmas present for my brother-in-law and our boys from our wives and it was a nice treat to do something non horsey and 'normal' at the weekend, despite the rain lashing directly in to our faces as we were in the open air seating! However, we are made of pretty tough stuff so the rain didn't stop our enjoyment!
Sunday saw the family heading in two different directions. I was giving a clinic at Tweseldown and the kids were competing at Aston in the final of the Bloxham sponsored eventing challenge series. The kids and Jenny have been going to this all winter and the kids have been very focussed on doing their best and have really enjoyed it.
Today they had a good day and came home first and second in the series – they were very lucky to receive some lovely prizes including a rug and sash and enormous rosettes. They loved their first ever proper lap of honour and a good time was had by all – I was only sorry to miss it and had to follow along via pictures and phone calls on the mobile.
I'm very proud of the kids as they are, yes, lucky to have good ponies but they've had to learn to ride them as you cannot be a passenger on either pony – so as I write this I'm feeling very chuffed!
I have a busy week ahead with show jumping outings to both Summerhouse and Hartpury, and arena eventing for me next Saturday at Aston and some cross country schooling, gallops and dressage lessons to fit in along the way so lots to look forward to this week.
Cheers,
Bill
Posted 21st February