Yard Visits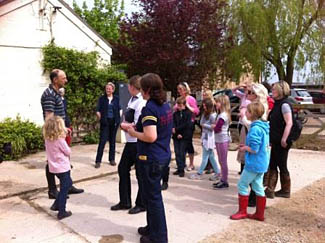 We now take bookings for Yard Visits. They include a tour of the yard, meeting the horses, learning about how a professional eventing yard works behind the scenes, and a ridden demonstration from Bill – not forgetting either lunch or afternoon tea.
To book a date and arrange a tailor made visit please email us on bill@billlevett.com
Testimonials: 
"I wanted to thank you for the time you took to show Georgia and me around your yard yesterday. We both really enjoyed ourselves and my daughter is still buzzing from the experience. On a personal note, to find a high-level professional such as yourself, who is happy to do things like yesterday, is a refreshing change as the gap between professional sportsmen/women and fans grows wider in every sport.
"When I have told people (who have no equine interest) that you not only responded personally to my email, but made us tea in your kitchen before showing us your wonderful horses and yard and spoke openly about your life and experiences, they have not believed me. You are a credit to your sport. Thank you again and we wish you and Womble the best of luck at Badminton."
David & Georgia
"Thank you to Team Levett for a fabulous insight into the world of eventing. Our Riding Club visit offered a rare glimpse into a world that fascinated our members, and it will certainly help us appreciate all the hard work that goes into producing event horses.
"We thoroughly enjoyed a jam packed afternoon in the company of Bill and Jenny, all rounded off with some of Bill's home cooked banana bread. Before we had left we were already planning a return trip, so many, many thanks for such an interesting, fun and informative time."
Tumpy Green Riding Club