ATHLEET V (Tommy)
Tommy is Bill's first 'pink' horse and unsurprisingly Ursula's favourite! He is a 12 year old roan gelding owned by the Prentice family. He is 16.2hh, by Tenerife VDL. He came from Tim and Antonia Brown and finished 5th at the BYEH 4 year old final in 2009, and 4th in the BYEH 5 Year Old Final 2010.
Tommy is a very talented, extremely athletic cheeky chap who has been known to challenge his jockey's stickability from time to time – plus he loves to chew anything he can get hold of! He is also extremely gentle and fond of a cuddle so is a great favourite on the yard.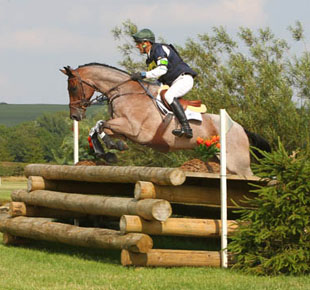 Tommy had a great 2012, being placed or winning in every outing he had. In 2013 he won an Intermediate at Aston-le-Walls, and jumped double clear in the CIC** in Saumur.
After some time out Tommy is now back in work and enjoying competing. We took things cautiously in 2016 with some Open Novice and Open Intermediate runs to ease him back in to eventing and strengthen him up after his long break and we are training him in a very different way – he has a huge amount of talent and I still believe he has the potential to be a very successful CIC horse if luck goes his and our way.
In 2017 Tommy will step up to Advanced level and if all goes to plan my aim is to be competitive at CICs with him and potentially target the ERM series in combination with Alfie.