Family Horses
BALLYMORE RICH CAT (Ricky)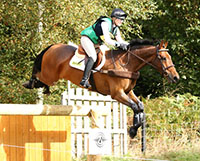 Ricky was originally competed by Bill. A 16.2hh gelding by Ricardo Z, he belongs to the Prentice family, who have kindly let Jenny take over the reins so that they can have some fun together at the lower levels. Ricky is definitely enjoying the increase in polo distribution in his new life. They are having lots of fun doing CIC*/CCI*.
IRISH ANGEL NJ (Cassie)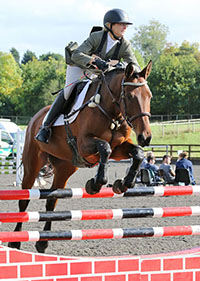 Cassie is a 7 year old, 16.2hh bay mare by Cassino, who we found at the Monart Sale in Ireland in 2013. She has a lovely jump and paces, a great eye and is a good model of a horse. She also has a kind and gentle temperament. She has been a complete pleasure to produce as she is such a kind and gentle horse but with enough about her as she takes an interest in her work and loves to jump.
She started her eventing career in 2015 and she enjoys eventing as much as she enjoys life in general. Jenny and I shared her during 2015 and I hunted her a bit this winter to try and keep up with Ursula and her pony Freddie. In 2016 I evented her a bit and then she had a freak accident on the walker which has taken a long time to get over. She will now become a family horse and we are retraining her to be a vaulting horse which she seems to be taking to.
SHANNONDALE JEDI (Jed)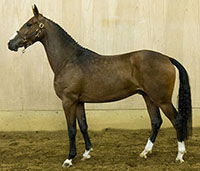 Jed is an Irish Sport Horse. He is a 4 year old bay gelding, approximately 16.0 hh and owned by Jenny. Jed is by Shannondale Sarco out of a Cougar mare. We purchased him at the Monart Sale in 2016 and he will be backed and slowly brought on during 2017 by Jenny and me – although I won't get a look in about competing him as Jenny already loves him to bits and is planning him for the kids in the future if they maintain their enthusiasm!
UNCLE AUSTIN (Aussie)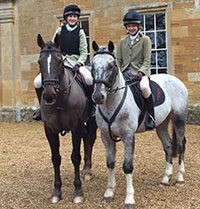 Aussie (right) is a 7-year-old, 14.2hh blue roan gelding. He was sourced from Malvern Sales and started off very well by Kate and her daughter Millie, who we have been lucky enough to get a host of great ponies from in the past, including Peggy, Basil and CJ. He is a young horse, but he is incredibly kind and laid back. He is currently on loan to Gee Holland who is a cracking young jockey in the making, and she is doing a super job producing him
GEORGE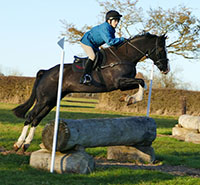 George is a 14.2hh 8 year old black gelding on loan from Fiona Spencer. He's a recent addition to the team and we are really excited about him and honoured to have him. He has not put a foot wrong to date and is a horse in a pony body with plenty of talent. Josh is really enjoying getting to know him and we shall see how things unfold.