ALEXANDER NJ (Alex)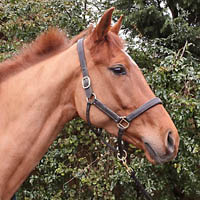 Alex is an 8 year old 16.3hh chestnut gelding by Furore owned by Tony and Janice Fuller, Veronica Wootten and Catherine Witt. He came from Tanya and Lee Bridgeman and finished in the top 10 at the BYEH 4 year old final in 2009.
In his first season eventing, 2010, I took him quietly as he was only five and it was all about him beginning to learn his job while continuing to grow and develop. He qualified for the BYEH 5 Year Old Final and also for the Lycetts 5 Year Old Final at Osberton but finished just outside the placings in torrential rain. In 2011 he achieved all his goals and continued to develop physically and mentally, gaining experience at Novice level while continuing to allow him to mature.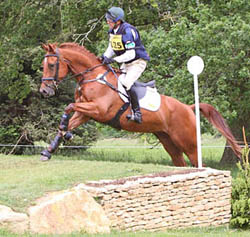 In 2012 he achieved all is goals at Intermediate level despite a very interrupted season due to the weather – the biggest casualty being his participation at Le Lion D'Angers 7 Year Old Championships; the competition was abandoned due to flooding when Alex was lying in 4th place after the dressage phase. Very disappointing for the whole team.
His goal for the first half of 2013 is to consolidate his intermediate experience with a target of a competitive CCI** performance and then to make the step up to Advanced level and, if all goes well, focus on the 8/9 Year Old Championships at Blenheim.
Alex is a complete gent and lovely to have around the yard and to train. Alongside this he has a great jump and movement.