Enjoying Retirement: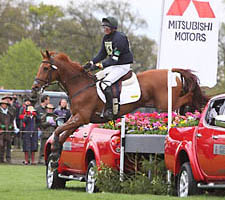 Hippolyte (Hipp)
Hipp is owned by the Leggetts, who have supported Bill for many years. He was on the Elite Squad for the Australian team and narrowly missed selection for the London Olympics. Hipp finished 7th at Badminton in 2010 and was always a great favourite with Bill. At the age of 17 he has retired to a new home where he will have fun and do some dressage.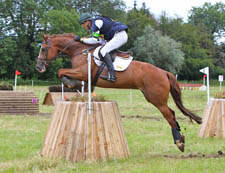 Araminta (Minty)
Minty came to us from the National Stud, where she was bred. She has now retired from eventing as a career.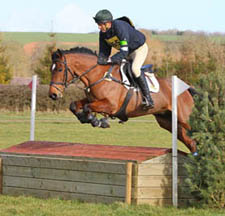 Timmy VI (Timmy)
Timmy has moved to his new home with Elsa and the Lamb family to enjoy lots of love and giving Elsa lots of fun and competitive experience in our local pony club the North Cotswold Hunt. He is only just up the road from us so we will be able to watch them develop as a partnership and I'm sure it won't be long until they are winning all of the prizes!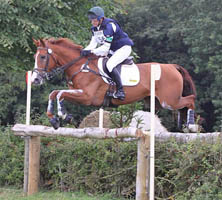 Filigree (Figgy)
Bill gained the ride on Figgy towards the end of the 2009 season. Sadly she picked up an injury on the gallops in the Spring of 2011 and the Gover family decided it was time for a career change. She has gone to the Harthill Stud, to live a lovely life as a broodmare with Nina Barbour and her team.
French Connection (Harry)
Harry came to Bill from Vere Phillips via Chloe Newton during the 2008 season, having previously show jumped in France/Ireland. Bill took him from Novice up to three star level and his last run was at Blenheim in 2011 where he jumped clear across country and had a single rail show jumping. He has retired to the hunting field, a career that he will love.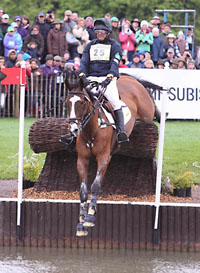 Political Trump (Tim)
Tim is owned by Janet and Matt Prior and the Levetts. Matt produced Tim up through the grades, winning Blair CCI** along the way (beating Bill in to second place with Blacker Cat NJ) and completing Bramham and Blair CCI*** and Badminton and Burghley (twice). Bill took over the ride in 2010, finishing 28th at Badminton, only their third ever event. This was Tim's highest completion at four star to date and resulted in selection as a reserve for the 2010 WEG. His last run was at Burghley 2011 where he produced a personal best dressage test.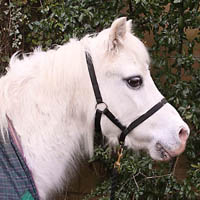 Basil
While Joshua's first pony was Peggy Sue (see below) Ursula favoured something a little younger than her brother. Now 28, Basil contested the local shows, including all and any mini show jumping Ursula could twist daddy's arm to enter! Basil has now moved on to give joy to another family – he's a very special pony.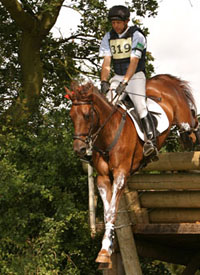 Minuto (Min)
Min, owned by Angela Dimsdale-Gill, was placed 10th at Burghley in 2004. He is a firm favourite with all of 'Team Levett', and has been based with us since 2002. He is a very kind and gentle horse but was brave as a lion when it came to eventing. Min had leg trouble on and off during the later part of his career – he's currently in good health and in full work, but has been retired from competition.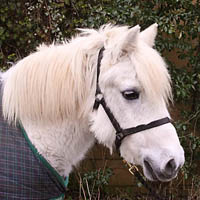 Peggy Sue
Still going strong, albeit not currently at Little Charingworth, Peggy Sue was very much Joshua's pony. Peggy is an angel unless you ask her to go beyond walk and a gentle trot, and she has a habit of making her dislike of cantering shown with the odd decisive buck which usually sorts out most of her small passengers. Now 40 years young she has gone on loan to Joss and Juliette Gray (eventing friends of ours) to introduce their two young children to ponies. She will be well within her comfort zone as a pony pram for little ones – what she's born to do. She will eventually come back to Little Charingworth when she decides that her 'working days' are over.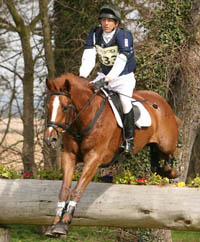 Sea Oro (Bella)
Bella was due to run at Burghley 2010 but she injured herself in the run up. She has now returned to her owners, the Kemps, for her rehabilitation and most likely won't be coming back to pursue a competitive future again but instead may become a brood mare. I had some great rides on her over the years across country and, despite her driving me mad on the flat, I have a huge soft spot for her. Her going has left a big hole in the yard.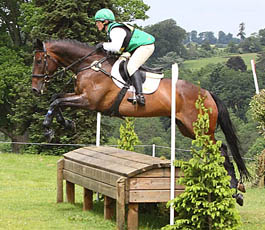 Master Buzz NJ (Buzz)
Buzz is an Australian TB gelding, a fun horse who helped Jenny rebuild her confidence riding with the gentlest, quietest kind nature. He is very good on the flat, and was frequently in the lead or top few after dressage as well as being the perfect leading rein horse when the kids were out hacking. He's now moved on to live with a local Pony Club mum.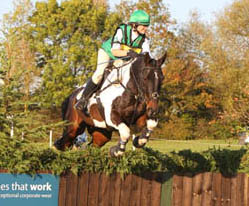 Patch Adams (Patch)
We were given Patch on permanent loan and he has now moved home to spend some time with Charlottie, who has helped me with my accounts for EVER! She and her daughter Sophie adore coloured horses and have been looking for a fun horse to do a little bit of everything with and so for now Patch is going to join them and have some fun.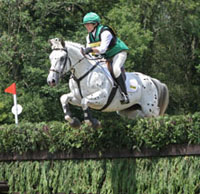 Blueberry NJ (Bluey)
Bluey might only stand at 15.1hh but he thinks he's 17hh, and he makes up for his height in personality and ability. Bill came home with him one day after visiting an old friend and in the beginning we all raised an eyebrow and thought what had he done! Jenny competed, and adored, him – due to our house rebuild he has moved on to a local family where he will have a lovely life and we will be able to see him from time to time.