Sponsorship Opportunities
If you are interested in sponsoring Bill, please email on bill@billlevett.com
Bill is grateful for the support he receives from:
TopSpec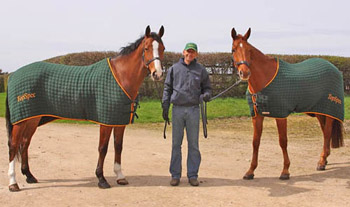 TopSpec is owned by experienced equine nutritionists whose goal is to achieve excellence in every aspect of equine nutrition, from selection of the highest quality ingredients, creating innovative, excellent formulae, manufacturing to the highest European standards and providing the most comprehensive nutritional advice to clients. Their nutritionists work closely with many of the leading equine veterinary practices in the UK and provide 'follow-up' advice on nutrition and management to their clients.
Click for more information on TopSpec
Succeed
"I started using SUCCEED on a couple of my upcoming intermediate horses and one advanced horse – and I've been really pleased with the results. Both horses were not good doers but on SUCCEED they've both gained condition and more importantly held it while preparing for three-day event campaigns. They've never looked better and I think SUCCEED has played a part in helping maintain healthy gut function in these horses which were previously hard to build and maintain condition," Bill says.
Click for more information on Succeed
HiForm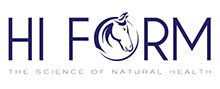 HiForm's Proflam Aid has been an important product in maintaining the health of Alfie an older event horse who has been competing successfully in the Event Rider Master series. Alfie is the most capped horse of the series, he has finished in the top 5 of each year to date. It has helped him cope with the stresses and strains of running in a pan European CIC series against the best competition in the world. We are looking forward to the 2019 series, and thank Hi Form for their continued support.

Click for more information on HiForm
Premier Equine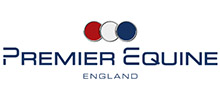 Team Levett are delighted to be working with Premier Equine to ensure superior protection for our team of horses. The 2019 season will see our horses protected with Carbon Tech Air Cooled Eventing Boots. Engineered to protect, technically advanced fabrics and lifetime guarantee strike guards provide superior strength and durability from Premier Equine eventing boots. Patented air-cooling technology keeps tendons cool while out on the cross country field and the innovatively designed horse boots are shaped to provide maximum coverage, protection and comfort. The revolutionary Carbon Tech Air Cooled Eventing Boots are constructed from Carbon Tech microfiber leather. Carbon Tech Microfiber leather is stronger than real leather, stretches and moulds to the horse's leg and retains its original shape. It has the advantage of being lighter but offering greater protection and the good news is that it is fully machine washable and has excellent durability. Keep an eye out for other Premier Equine products keeping our team of horses protected.
Click for more information on Premier Equine
Fairfax & Favor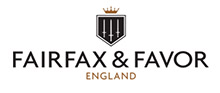 Fairfax & Favor is a charming, Norfolk-based brand, owned and run by two young entrepreneurs, Marcus Fairfax Fountaine and Felix Favor Parker. A multi-channel shopping destination for footwear and accessories for men and women, the products are of the finest quality, designed to last a lifetime. Celebrating fun and adventure with a spirited take on British culture and heritage, the brand's soul lies in its cavalier attitude to life. 2019 will see Bill collaborating with Fairfax & Favor and showing that the Fairfax & Favor brand is relevant to the more mature end of the market and not just the young'uns!
Click for more information on Fairfax & Favor
FMBs Therapy Systems
FMBs produce advanced equine therapy equipment to enhance suppleness, fitness and rehabilitation; Activo-Med electromagnetic and massage rugs, boots, lasers and cold therapy plus dry and water treadmills, spa, solarium, nebulisers and washroom equipment.
Bill says, "Managing the physical wellbeing of my horses is an important aspect of keeping them on the road, the ActivoMed rug plays an important role in ensuring we prevent and manage muscle soreness proactively, leaving me with the peace of mind to focus on helping them give of their best in training and competition."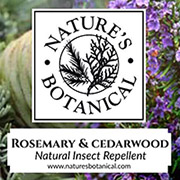 Click for more information on FMBs Therapy Systems
Nature's Botanical
"Nature's Botanical is an Australian company which produces an effective, natural (and therefore DEET free) insect repellent for horses and humans. Not only does it work, it smells good too!"
Click for more information on Nature's Botanical
Bex's Browbands and Collars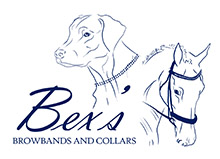 Bex's Browbands and Collars can offer you a high quality, bespoke product that is perfect for any occasion and to suit every budget. They specialise in browbands, dog collars and stock pins as well as other accessories. All their products are hand-made to order in the UK, using the highest quality leather, crystals, beads and ribbons.
Click for more information on Bex's Browbands and Collars
A Hume Country Clothing

A Hume Country Clothing is a 3rd generation family business, with two retail premises located in the Scottish Borders market town of Kelso as well as an extensive online offering.
A Hume focus on providing premium lifestyle country clothing for Ladies and Gentlemen. Through the provision of niche brands not found on the high street and with a focus on sourcing the very best of both local and global products A Hume's collection includes Australian sourced RM Williams footwear and clothing, premium country brands including Dubarry of Ireland, Schoffel and Fairfax & Favor, as well as locally sourced tweeds and premium quality cashmere from the mills of the Sottish Borders.
Click for more information on A Hume Country Clothing
Somèh – The Rider's Sportsbag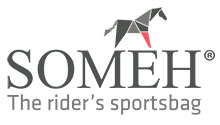 Form Equine are always on the look out for high quality brands that focus on the care and well being of horses. The latest addition is from the German based Geckwin e.K. who are the creators of the Somèh Brand, one of the largest brands in Europe for innovative bags who have now turned their attention to our Equestrian world. Over the last 20 years, there has been considerable focus on design, detail, practicality and style, so when they made the decision to move into equestrian products there was a detailed consultation process with horse owners and riders to understand what was missing in the market and what was required. The result are adaptable and practical products that look great, work brilliantly and are a must whether you are at home or out at a competition.
Click for more information on Somèh
Lotus Romeo – Premium quality Jackets and Tails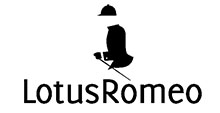 Lotus Romeo is all about the rider, created by riders for riders. All ranges use lightweight, breathable, flexible fabrics. In the design, they use breathable thin mesh lining in the rear panels of the jackets and tails. Freedom and comfort of movement means that the sleeves do not have lining. All the fabrics are technical which follow the shape of the body ensuring maximum comfort
The British weather often gets in the way, we often ride in the wet – all materials are run proof – no dye on white shirts and jods. All jackets can be washed in your washing machine. Quality is the watch word in everything they do from design through to materials, tailoring and finishing.
Click for more information on Lotus Romeo
GoodBye Flys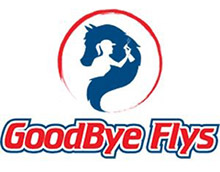 Great new horse products that are an absolute alternative to fly repellants, organic grooming products which nurture and protect whilst preserving and maintaining your horse's and dog's skin and coat condition, all year round. All ingredients are bought from certified suppliers and compliant with FEI Competition Rules.
GoodBye Flys products can be used on sensitive skin horses, moisturising the skin, helping with hair growth – and best of all, midges and horse flies don't like them.
Click for more information on GoodBye Flys
VIP Equestrian

These 8mm thick gel pads are perfect. They maintain their shape under extreme and prolonged compression and are soft, flexible and seamless. Bobbles increase the surface area, alleviating pressure points and evenly distributing weight.
Click for more information on VIP Equestrian