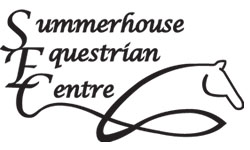 Yesterday saw us at Summerhouse for some showjumping  – it was great to be jumping outdoors rather than indoors and also to have a drawn order as, despite the number of entries, there was less hanging around – so the drawn order and pre entry system gets a big thumbs up from me!
We took two lorries and eight horses and parked ourselves up for the day – a big thanks to Emily for keeping it all organised and for the home team for ensuring everything back at base ran smoothly as well;  Charlotte C, who is training with me for a few days, did a great job of ensuring all my rounds were videoed which is incredibly helpful for me to chew over after the fact, to ensure I know what I need to work on when I discuss the rounds with Ros. Ros was able to join me to help me with the horses for much of the day which was very valuable.
It was a first outing for some of the horses and they were all pleased to be at a party! Each horse jumped a couple of rounds and overall they all jumped well; the hard work we've been doing at home is bearing fruit. Dotty was the star of the day jumping a super double clear and coming home in the money, which was very pleasing for her owners.
Alex, Cassie, Drax and Tonto were having their first competitive outing and all jumped super rounds. Alex was an old pro, managing to contain his enthusiasm for being at a party and jumping very well, Cassie is old beyond her years and, like Alex, jumped super double clears. Tonto and Drax jumped well just rolling a pole with a momentary lapse in concentration.
Sparkles was the most excited of the lot, trying to scoot off from time to time in his enthusiasm for being out jumping. However when he got to the fences he jumped very well – it was just cheekiness at the excitement of  jumping outside.
Natty and Womble rounded off the day with Natty being her consistent self, jumping another super double clear and Womble jumping two lovely rounds just rolling a pole in each class when jumping directly in to the setting evening sunshine (I will never complain about the sunshine!) which made it hard to see what he and I were jumping!
So all in all a good day at the office.
The sun is shining again this morning and we are off cross country schooling with the young horses and to the gallops with the older ones.
Cheers,
Bill
Posted 24th February