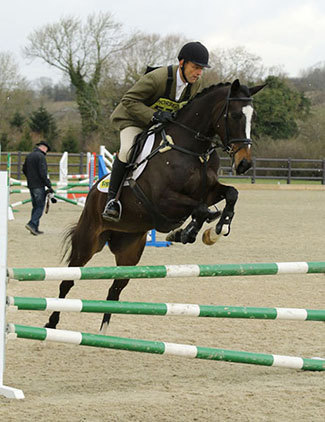 We've had a gentle start to the eventing season with just one horse running at Aston-Le-Walls. Tara is a young ex race horse who I have been training over the winter and she had her first proper eventing outing today.
She tried very hard, with improvement in both her dressage and show jumping from the training events she has done. She just rolled one pole in the show jumping which was unlucky, and then she went confidently around the cross country with just one hesitation for 20 penalties at the ditch.
Tara has a desire to be careful and is light on her feet with plenty of engine and jump so she is an exciting prospect for the future. This season will be all about her getting to know her job and I will take my time with her.
The kids came with me today as Jenny is away; Urssie and Josh helped me out at the event which was very funny and another moment in growing up.
We have a big week ahead of us with dressage lessons and show jumping at Summerhouse followed by eventing at Oasby on Thursday, Friday and Sunday and more show jumping at Hartpury on Saturday. So lots to look forward to.
As always thanks to my team
Cheers
Bill
Posted 6th March