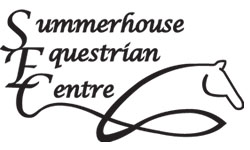 Well another busy day for Team Levett, with plenty to do at home before Rosie (one of our new staff) and I did a round robin dressage lesson and showjumping competition with Gareth and then on to Summerhouse respectively. The flat work seems to be coming on, it's now just a matter of trying to get the quality of work I have at home in the dressage arena. I don't know how long it is now since I have been training regularly with Gareth for dressage but little things continue to fall into place.
We were a bit late getting to Summer House for the 1.20 with Sparkles and Alex and there were not too many people in the 1.30 for Womble and Natty. This meant that there was not a lot of time between horses. Natty was a little star again, finishing fourth in the 1.30, and Womble continues to show that he really does want to jump clear for four faults – and that four faults was more down to me than him. Alex is getting more back into work and came through with a lovely double clear in the Foxhunter while Sparkles was unlucky to have one fence down in the same class.
We are all hoping for some good weather at Oasby at the end of this week as we have three days there with quite a few horses.
Until next time,
Cheers,
Bill
Posted 8th March