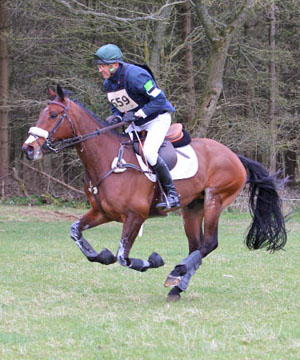 A few of the older horses had their first day out of the new season today and, true to Osby form, although it was really wet at the start of the week the ground was good enough to compete on. I would say for the Saturday and Sunday classes the ground should be great.
I didn't go particularly fast on any of them today, just a nice school around the intermediate. I thought the cross country course had a good bit of variety and made for a really nice first run of the season. There were enough questions without the course being too demanding.
Poor old Womble (pictured) was a bit over enthusiastic on the cross country after a lovely dressage test and decent show jump round and caught a knee at the first part of a combination which left us a bit out of kilter and he locked on to a fence next to ours which was sadly cross flagged. Because Fontainbleau is only a couple of weeks away I took him fairly quickly and all seems to be well with his cross country confidence.
The other three went slowly and jumped nice double clears. The two ginger boys, Alex and Sparkles, were a bit OTT in the dressage but we can cut them a bit of slack for their first party of the year. It was very pleasing to be able to pick up where we left off at the end of last season with Natty. We put a lot of time and effort into trying to understand and get a good tune out of her so if it continues this season as it has we should have a very good partnership by the end of the year.
Back again on Sunday with some young ones and Jenny will have another nice run on Ricky.
Cheers,
Bill
Posted 11th March