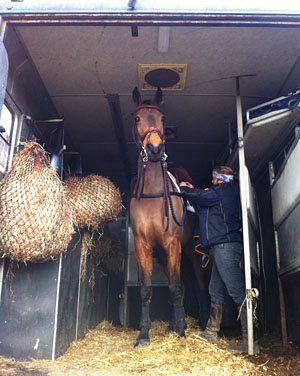 We are on our way back from the last day of Oasby. Today it was nice to see Jenny on Ricky and we also had Tara and Cassie.
It was a bit of a family day out as the kids were chief polo dispensers and video takers. It was also Yasmine's first event and she was on her own. So it was good to start to get into a system as it takes a few events for all of us to be on top form.
Ricky seemed quite pleased to be out and it takes a few runs for him to settle into it. He has been going so well at home, I am sure it's only a matter of time before he relaxes and gets into the groove of competing.
Tara tried her absolute best. She had one down showjumping and two refusals cross country, it is no reflection on how much effort she was putting in to try to do the right thing.
This year is a big year for Cassie as she is stepping up to more difficult tracks (novice). It will take her a while to get competitive but I am more than confident she will give a good account of herself.
As I said on Friday, it was just great to get the horses out, and the cross country courses for all the different grades were about right for the time of season. Yasmine kept up well for her first event; it's always hard to work out how best to use the time all the day to keep everything moving along smoothly.
Lincoln will be upon us before we know it and then straight after Lincoln, is our first big competition of the year: Fontainebleau. Better have my game face on for that one.
Until next time,
Cheers,
Bill
Posted 13th March