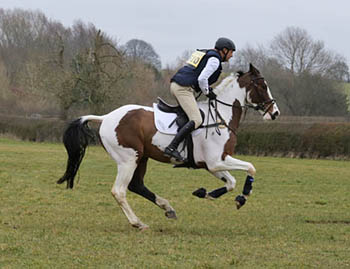 First day of Lincoln done and dusted… And if you were expecting a nice warm day you'd be bitterly disappointed, as it was very cold. Today saw Tara doing her first BE100, Cassie doing her first novice, and Dylan and Tonto (pictured) also came out for their first run of the season in the novice.
Tara again stepped up to the challenge of a higher level and it will be at this level that she will spend quite a few months gaining more experience. It wasn't easy for her in the showjumping today as the ground was a little bit holding, but other than one fence down, she again really concentrated and tried to go clear.
The cross country was bigger than she'd ever seen before and again nearly every fence she took with a positive attitude. At Oasby last week she had problems at a step up and step down, and she still hasn't quite worked it out as she had a stop coming up a step today. Other than that she jumped a lovely round.
Dylan was quite a handful, so we decided not to run him in the showjumping and cross country. However, one of the highlights of today was Cassie. She jumped her way round a novice track, the like of which she wouldn't have seen before, and every time I asked a question she pricked her ears and tried to do the right thing.
It was good to have Tonto back out on grass course and I'm really pleased with the feeling he is giving me with his jumping phases. He certainly has matured a lot in the last six months. The ride he is giving me on the cross country is far more relaxed than it was last year.
The showjumping warm up at Lincoln is certainly one of its downsides as there is just not enough room for the amount of horses to get a good warm up, but the cross country courses, as I say each year, are good and educational.
Till next time,
Cheers,
Bill
Posted 18th March