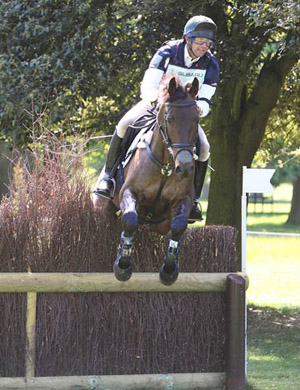 Today has been a busy but mixed day at Houghton. Harry (pictured) was first up with his cross country and he did a nice clear inside the time. I was pleased with how he went and I feel he's definitely now ready to crack on and step up a level. So if he comes out of Houghton well we will aim for the Novice Championships and a 2 star three day at the end of the year, probably Weston.
He took it all on today and coped well, we've pulled up to 25th but at 1 star level many others got the time. He seems to have pulled up very well so I hope he will put in a good performance tomorrow in the show jumping.
I then did Bella's dressage which was not good – suffice to say she was 'not with me' today and I'm last. I never planned to run her cross country, only to show jump as she has Bramham next week. I hope she is more with me there. Less said the better, if effort equalled results we'd be winning but I cannot fathom her in the dressage as yet.
Coco's dressage overall was good, although a few niggling mistakes held us back I feel. He broke in the walk and the halts and centre lines were not as 'clean' as they usually are. His day will come and for his first grown up competition it was good: he scored a 45 and is in sixth BUT he has the potential and ability to be in the 30's so we will keep working at it.
Tomorrow is Bella and Harry's show jumping and Coco runs cross country. The scores are very tight in the 1 star so we will see. As for Bella, her show jumping round I hope will be back to usual and not as at Chatsworth. As for Coco I'm not planning to 'go for the time' as the ground is on the firm side and not ideal – they've worked on it but it's not great, a bit firm and uneven in places especially at the beginning and towards the end of the course.
Off to have some physio on my back and knee – I'm getting to an age where everything is beginning to fall apart. At least the horses and I share a physio though – very efficient which is to Jenny's liking!
Cheers,
Bill
Posted 28th May