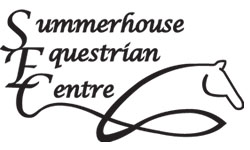 It's been a good day showjumping at Summerhouse today. It was a long day as we had five horses but the big bonus was that the sun shone, which always makes things more enjoyable.
Tara was the first to jump and she had two starts around the 1.00m class. She still struggles with the combinations, but on her second time round she jumped a lovely clear. She just keeps improving, I've loved her attitude to her new job since day one.
Sparkles was also in a couple of classes, and thankfully he wasn't quite as fresh as last time out; he managed to jump a lovely clear in the 1.20. He hasn't run that many times yet this year and I'm glad that I've got a late entry into the OI at Belton for him this weekend. I'm hoping that will be another good chance for him to get back in the groove pre-Tatts.
Tonto was the star of the day with two clear rounds, one in the 1.05 and another in the 1.10, and because he is BSJA registered he actually won the Newcomers. I tried a really tight turn in the jump off that no one else did and it gave me a couple of seconds lead on the rest of them. It was great that Carol could come to watch him and take home the rosette.
To finish the day off Alex and Womble both jumped in the 1.20 and 1.30 and keep jumping lovely clear rounds. I'm very pleased with them both and looking forward to the rest of the spring with them and getting them to their main aims.
A couple of days at home now before we leave for Belton.
Cheers,
Bill
Posted 12th April