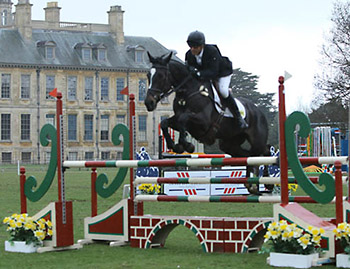 Driving home after a very long, wet and miserable day at Belton! To be fair to the organisers they did a good job to run what they did today. Although they cancelled the intermediate sections, the advanced, 2* and 3* all ran.
The day started off with snow and then we had rain, hail and sunshine and everything in between. Poor old Sparkles had another run cancelled which is frustrating. He is only young but it would be good to get a few more runs under his belt.
Dotty (pictured) and Natty were doing their dressage and showjumping in the advanced today and I have to say that they are both improving with every outing. I am not going to think about their showjumping rounds too much as they were trying so hard to be careful, but again, just like Weston, the ground was against them and they had a couple of rails each.
Womble and Alex had a day at home today. Back again with tomorrow with the girls to do their cross country and Womble and Alex for their jumping phases. As I said yesterday the course will be another step up for Dotty and Natty and it will be interesting to see how they take it all on. It is big, but I think it will ride well if you leave the start box with a positive frame of mind.
Cheers,
Bill
Posted 16th April