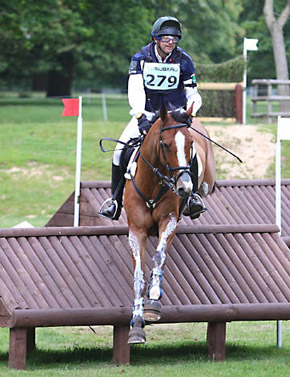 Today started with a quick rewalk of the 2 star cross country track and also a walk round the 3 star show jumping early this morning while Harry and Coco went for a hack to stretch their legs.
The 3 star show jumping was quite colourful and square with thin poles which always take some jumping. The ring is on a slight slope with some of the uprights in particular on grouns that runs away from you. Bella redeemed herself after yesterday's antics with a lovely clear, probably the best round she's ever given me – so all back on track after our odd round at Chatsworth.
Coco then did his cross country. He was clear with a few time which was always the plan as a few parts of the course I wanted to travel more slowly across as I was less happy with the ground. Coco was a bit green at a couple of fences – luckily for Jenny, but unluckily for me, Fiona and Hils were at both! He went a little green at fence 7/8 two logs on a long one stride with a jump in to space after the second one; he had a look at the second one and was good to go, he could easily have stopped but rather fell all over it so I then had to go long.
The water was our second 'moment.' The in is on a long two strides, a distance which I didn't think really worked. I wasn't going to trust him after our earlier hiccup so pushed for the two and he rather launched himself into the water. Luckily I was ready for it and sat back, and he stood up when we hit the water. He jumped the rest like a top and I was particularly pleased with his gallop stride, he feels like he will have enough gallop for the job.
We then had a quick turn around for Harry's show jumping. He was his usual laid back self but he jumped a lovely clear round to move up 10 places to 15th, a pleasing result for his first three day event. He will now have a couple of weeks off and then aim for the Novice Championships at Gatcombe and an autumn 2 star, probably Weston Park.
Coco seems to have pulled up well; he's having the usual ice treatment and massage that we give horses after they run along with the magnetic rug and gameready cold treatment machine. I will trot him up later this evening just to make sure all is well. He will jump tomorrow after his trot up first thing.
Cheers,
Bill
Posted 29th May