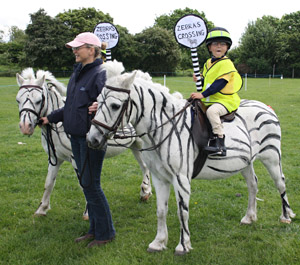 Coco trotted up well this morning and seems to have come out of the exersions of yesterday in one piece. He then proceeded to jump a great clear round and I couldn't be more pleased with him. He concentrated really well and jumped like a top in the ring.
The show jumping didn't lead to any great shake up and I remained in 10th place and importantly secured my qualification which was the main aim for Coco. I do feel that he will win something big at some point, he has it all there, it's just a case of trying to get him to that level with the minimum wear and tear and right education.
I did feel the show jumping for the 2 star (and also the 1 star) was on the small side and not as testing as it could or should have been, but I would say that wouldn't I, as Harry and Coco are both jumpers and I would have liked the show jumping to have more of an influence, as it often does!
Jenny and my parents drove home from Houghton late last night as the kids had a big day today – their annual pony club show. They left bright and early this morning for their first ever proper show jumping class (over poles on the ground I might add). They took it all very seriously insisting on a course walk with mummy and then proceeded to jump two double clears each. They had great fun telling me so BEFORE I jumped Coco – so the pressure was on.
Peggy and Basil then transformed themselves in to two zebras with some help from Gracey armed with black paint, marigolds and several large paint brushes! Joshua and Ursula had started off wanting to go in the fancy dress as safari animals but that was challenging our costume making skills so they ended up as Zebras Crossing with the two ponies as Zebras and Josh and Ursula as 'lollipop' people in their fluorescent gear. They came 3rd.
Ursula then rounded off the afternoon with some gymkhana games while Josh watched from the side lines with Nana and Pop. A good day was had by all at the show and also by Daddy at his show. They had great fun telling me about their show jumping rounds when I got home.
It's a quick turn around before Bramham with lots to do between now and then with Bella cantering tomorrow one last time at the gallops and then Shelford Manor on Tuesday with Tommy, Alex and Fin and others to ride and teaching to be done.
I'm looking forward to a quieter few weeks at home after Bramham.
Cheers,
Bill
Posted 30th May