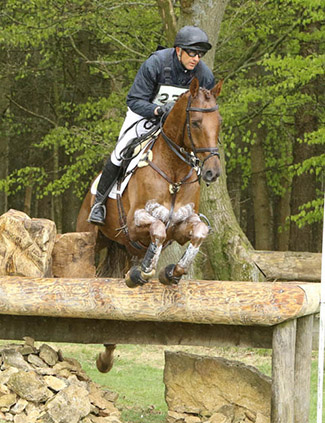 I'm driving home from Withington after just having Sparkles there for the open intermediate section. Although he warmed up well for the dressage he was too fresh, having been the victim of several cancelled events.  He hasn't run since Oasby at the beginning of March so he finished a few marks off of the leaders.
I was also a little bit disappointed with his show jumping as he's a super jumper but he was simply missing a little bit of match practice which resulted in two jumps down in the early part of the course before he really started to wake up and concentrate.
The going was really good and seeing as it was his only run before Tattersalls I thought I would just let him bowl along out of a nice rhythm. He is as good a cross country horse as you would like as he is light, athletic and always looking for the next set of flags. All in all it was just really nice to get a run under his belt and the way he felt I think he will be fine to run at Tatts.
The course this year was changed a little bit as they added a new loop early on and a couple of new combinations. It's always nice to get a little bit of variation in the courses from year to year.
I'm back tomorrow with three advanced horses but only one will probably run cross country. Hopefully we won't have too much rain over night! I had my own personal coach with me today walking the cross country; Josh came to give me a bit of advice – I think it will be a few years yet before I take any of it!
Cheers,
Bill
Posted 30th April