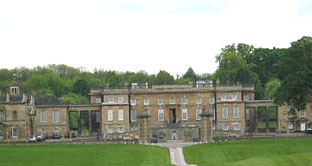 I left for Bramham at the crack of dawn this morning after some late night packing of the lorry. We made it here before the traffic got bad on the M1 so we had a pretty good run. After settling Bella in and organising the lorry Eleanore took Bella for a hack and leg stretch while I went to the briefing.
They've had some rain up here but the ground is still firm enough and ideally I'd like more rain but sadly I don't think we are going to get it. I've not yet walked the course (more on that later) but I hear from my peers that the course is big and bold and that Ian Stark has made the most of the terrain and hills – the course is 10mins 21secs so it sounds like it's not going to be a dressage competition. Good news for Bella and me!
I didn't walk the course this afternoon as I'm carrying a couple of pulled muscles from getting pulled around on a young horse, so had to have some physio this afternoon to try and help settle it down. We then had the trot up which, thankfully, was uneventful, after which I rode Bella giving her a school on the flat. I'm number 24 so have dressage early tomorrow afternoon.
Fingers crossed Bella wakes up in a good mood and is 'on my side' and not too cranky!
We'll soon find out.
Cheers,
Bill
Posted 2nd June