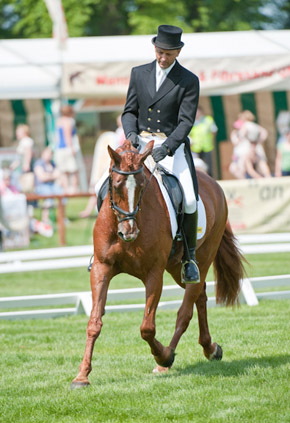 Today has not been the best – Bella didn't go well in her dressage, I'm embarrassed to say she scored an 80 – a first for me! I'm gutted. She had worked in quite well the previous day and this morning and also immediately before her test and I was secretly hoping for a high 50s or low 60s. However as soon as I rode up to near the main arena she became fragile and started tossing her head around – I don't know if it's an excitement thing or what but before we got there she was being pretty good!
Anyway we are where we are – the good news is we are NOT last, but we are still well off the pace.
The better news is that I don't think its going to be a dressage competition. I walked the course this morning and have to say I was very impressed, the course has changed a lot. I think Ian Stark has built a cracking course. The ground is really good, the best I've ever seen at Bramham it's very even and not as firm as I'd expected as they have been watering twice a day for the last three weeks. The track is really beefy, more of a three and a half star than three star so we will see how it rides.
The beefy fences start early on at the first water with a corner coming out of the water as the last element which leaves no room for error. There is shortly afterwards a bounce over a hedge log then a huge ditch and brush on a related line. There are also two very big corners on a related 5 or 6 strides, they seem very tall. Antoher fence that strikes me are two big box brush fences  four strides apart coming down hill, the first one will put you into space and the ground falling away a lot so will be interesting to ride.
There is jumping right up until the end of the track with the third last fence being a big open ditch and brush. There is no real let up the whole way round – a good old fashioned cross country course with lots of questions to make me and the horse think.
I'm looking forward to riding it – and on the bright side the weekend can only get better!
Cheers,
Bill
Posted 3rd June – Photo Trevor Holt