I'm just back from a very busy day at Salperton. Boy was it hot, and I'm Australian!
I had Hipp and Tim in the AI and Magnus, Harry and Coco in the Intermediate. I had only ever planned to do the dressage with Hipp and the dressage and show jumping with Tim. Both horses have got a lot of work ahead of them and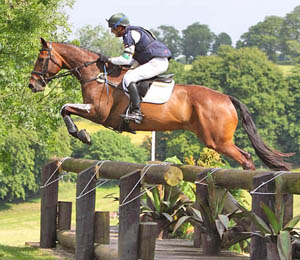 I don't want them to peak too early, but I'm still keen to get them out for some match practice.
I was pretty pleased with how settled Hipp was given he's not been out since Badminton and he's feeling very well. He was 3rd behind Avebury after the dressage with a nice test and there's still much improvement to come as he was a little fresh and pleased to be out.
Tim didn't do his greatest test; the walk was lovely and some of the trot but he got very excited in his medium canters and his canter half passes and the end of the test went a little out the window – but I was glad he was feeling well! And he is working much better for me at home, I feel we are really building a partnership. He warmed up well for the show jumping and I felt I rode the first 5 fences well and got what I wanted – but I then didn't ride the double well. I was a little free and flat and he had both parts down which was a shame. He then jumped the treble well and tipped the last out. I am planning to take him show jumping quite a bit as I feel this is our weakest phase and I need to build more of an understanding with him and get him to trust me a little more and relax. We are lucky to have Weston Lawns quite close by which has regular BSJA on a great surface outdoors. This will benefit him and me over the coming months.
I really like Salperton; as an event it is local to us (always a bonus) and takes place on a beautiful estate. They make a huge effort to give it a big event feel with nice dressage arenas, a big and colourful show jump track surrounded by trade stands and hospitality, and a beautifully presented cross country track. They had done as much as they could with the ground given how little rain we've had and although it was firmish it was flat and they'd taken care of take offs and landings. It's got a big hill towards the back end of the track which always takes it out of horses. The tracks this year are, as ever, up to height but very well presented and ride well. It has some interesting combinations early on with a step, log, skinny combination, into space and then step bounce to skinny brush. They also had water at the end of the course to be able to cool horses down which was very welcome on such a hot day, a nice touch.
The only fence that didn't ride well was the middle element of the last water. I don't know whether this was because it was at the end of the long pull up the hill and the horses were a little puffed or switched off; I think not but instead I think that the horses just didn't read it well as it had a lot of reeds in front of it and I don't think they really understood and/or found the reeds distracting. Many horses left knees and there were also a few duckings, a shame really as the rest of the course was great.
Harry and Coco were having a first run since Houghton and overall I was pleased with how both of them went. Coco did a lovely test – I was really pleased with how settled he was and confident in his work as he can be quite a boyo at one day events. He then jumped a great double clear; I only went very slowly as the ground was firm but he needs the experience and so I decided to run him slowly to give him more education with different types of fences.
Harry did a nice test and went well cross country – he's very happy in the double on the flat and creates a great picture. I was frustrated with him in the show jumping as he's a good jumper but he rolled three poles feeling like he only got out of bed half way around the track! Annoying but I will take him show jumping to get him more focussed on jumping the bigger fences and his day will come. He will be very competitive given time and has only recently moved up to Intermediate. He coped very well with all of the cross country questions which was a big ask for him – so very pleasing. He is mentally a very cool horse.
Magnus (pictured) was the star of the day finishing third in an intermediate section. He did a solid test with more improvement again and jumped a confident show jump round rolling one unlucky pole. He then went like a top cross country, he's now in the groove and quite confident at the level. So all in all a good but hot day's work, topped off with ice creams for all and an early night after all the sun. Even Dangar (our springer) got off the bridle coming up the hill when walking the course to the water jump and had to have a 5 minute lie down in the water to cool down.
The final job before we left for the evening was for Pottsey (Graham Potts), the UK based Australian team vet, to have a look at Hipp giving him the once over. He did this to all the Australian horses at the event as part of his role. All is in good order and so that's another box ticked for now. Salperton had all the big name riders and their good horses out and about which is testament to the event. Let's hope it is back to stay in the calendar after its absence last year. It is a great event. I'm back tomorrow with Figgy but only for dressage and maybe show jumping as she has had a couple of runs recently on firmish ground and is going really well cross country.
Cheers,
Bill
Posted 26th June